Running actions in parallel
At this step, you may have understood that various use cases may lead multiple actions of a job to be started in parallel.
Make sure to be aware of this powerful feature, as it can have an important drawback: running tons of tasks in parallel may quickly result in overloading your server CPU!. To avoid that issue, jobs define a "Max. Parallel Tasks" parameter that you define to tell the internal queue to never run more than XX action instances at the same time.
Example
Let's have a look at the internal job used for extracting images thumbnails and exif metadata: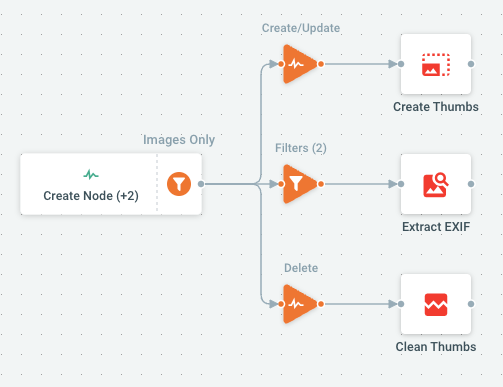 Now imagine that a user is uploading 1000 JPG images to Cells at once.
Input trigger could eventually receive 1000 "Create Node" events in a very short period of time
For all these images both "Create Thumbs" and "Extract EXIF" will be launched in parallel. These actions require reading the entire file and manipulating image pixels, and are CPU-heavy.
Without any restrictions, you could end up having Cells processing 2000 heavy-load actions concurrently! If you notice the Max. Parallel Tasks: 5 value, we avoid this by batch-processing images only 5 by 5.
Of course, if you have dimensioned your server CPU/RAM to handle super high load, you could decide to raise this value to accelerate thumbnails generation (within acceptable limits for your hardware).
Back to top