Delegating workspace creation
Created on 2018/01/27,
WORKSPACE TEMPLATES
You can create templates that will allow you to quickly deploy Workspaces.
BASIC TEMPLATE
We will see how you can create a basic template from scratch we'll see what every parameter stands for.
CREATE TEMPLATE
Go to Workspaces & Users > Workspaces > Manage Templates Now click on +TEMPLATE now you have the following screen :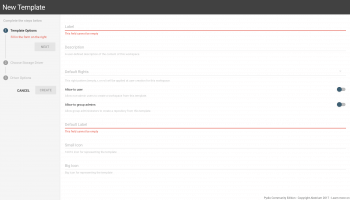 1. TEMPLATE OPTIONS
Label : The template's Name
Description : A short description of the template
Default Rights : You can choose the Rights that will be applied by default to the workspaces created from this template
Allow to User : If you want to allow users to create Workspaces using this Template
Allow to Group Admins : You can allow admins to create a repository using this Template
Default Label : You can prefill a label so that whenever someone creates a workspace from this template it will fill the label line with this
Small Icon : You can have a 16X16 icon representing the tempalte
Big Icon : You can have a bigger icon representing the template
2. CHOOSE STORAGE DRIVER
You can choose you a storage type.
Select Storage Type : you have to choose a storage type, you can use the ones that you have from your plugins too (dropbox,aws,etc...).
3. DRIVER OPTIONS
The driver's options totally depends on what type of storage you choose, it enables you to choose the ones that you want for the template.