Discover Pydio Cells
Installed on your own infrastructure, Pydio Cells provides a central place for your users to collaborate and share files internally and externally, while empowering your IT admins to monitor and protect your company's data.
Still running Pydio 8 or older? Learn why you should migrate!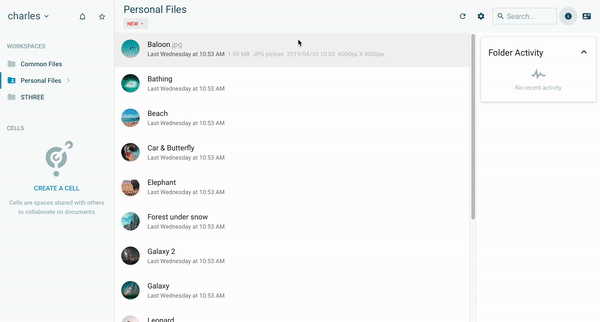 One central access point for all your files
Centralize your files in easy-to-organize Workspaces and Cells, access your data from any device.
Share files and folders securely in just a few clicks, with internal collaborators or external shareholders.
Cells intuitive interfaces are at-par with most common SaaS-based filehsaring solutions, making transition easy for all users.
Security at heart
Define and assign access rules per users or groups, based on many possible rules: IP addresses, location, time...
Allow your users the exact granularity of control they need on their content
Closely monitor access and sharing activities with a powerful Admin Dashboard & Analytics
Safe and simple authentication process based on OpenID Connect, easy to integrate with enterprise authentication servers
Compliant to your needs
Track sensitive data accesses with audit and reporting tools
Comply with GDPR and other new tightening data protection regulations with our Enterprise Data Management features
Quickly and easily analyze relevant data with GDPR-compliant logs (separated from system logs)

Get your teams to collaborate efficiently
Work together in real time on office documents directly in your browser, using Collabora Online Office Suite * or OnlyOffice *
Pydio allows you to create your own collaboration spaces, invite people to join and share documents between them
Realtime chat with one or several colleagues around your shared files
Manage huge amounts of data
Written in Golang, Pydio is very powerful: handling large files (up to 5TB!) has never been easier
Built on a micro-service architecture, it is easy to scale to match your workload
Easily identify bottlenecks with our admin console for easier diagnostics
In-depth integration
Connect to many storage systems: Local FS or Network Mount, Object Storage (S3-Compatible, Azure Blob, Google Cloud Storage)
Connect to many user directories, with an autonomous sync of users: LDAP, AD, SAML, SHIBBOLETH...
Automate provisioning with clean, well-documented REST APIs
Speak with third party services with Cells Flows via CLI, Webhooks, HTTP/FTP
Manage your teams
Integrate Pydio with your Enterprise directory, or simply create and import your own users
Decide what end-users are able to do: sharing permissions, creation of their own teams within their address book, creation of external users... You set the rules
Monitor the activity with our powerful admin dashboard : the Share explorer lets you see who shares what, with auditable KPIs
Brand your Pydio
Customize Pydio to your own visual identity to improve the brand experience of your customers and partners. Let your users feel like home.
Granular Permission Control
Control permissions with many variables. Your users can see, edit and share only what you allow them.