Self-Hosted Virtual Data Room and Document Sharing and Collaboration in One Platform
Why settle for a virtual data room solution when you can have all that critical functionality in a secure, enterprise-level document sharing and collaboration system?
Pydio Cells is a powerful, self-hosted data room solution that can handle all your complex and sensitive data and transactions. But it's also so much more.
Cells allows businesses of all sizes to meet the challenges of document management, sharing and collaboration, all from a single, affordable platform.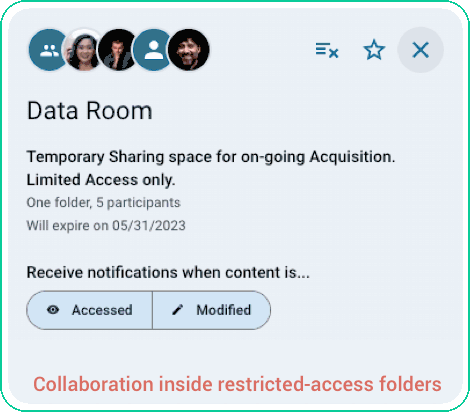 Quick and Easy Self-Hosted Data Room Solution
Although it was originally developed as a document-sharing and collaboration tool, Cells has all the features and functionality you need from a data room.
Easy to use: First things first, any user-facing platform needs to be easy to use, navigate and understand. At the most basic level, Cells is an intuitive, no-training platform that lets users hit the ground running

Secure: Cells is a security-first platform that doesn't compromise on usability. It's self-hosted, meaning you are in full control of the security environment. The platform also includes sophisticated access control capabilities, data encryption, and built-in recovery schemes. Learn more about Cells' security in our whitepaper

Advanced Search: Cells' powerful assisted search technology lets you find what you need via document name, keyword full text and even AI-powered guided search

Brandable - With Cells, you can easily create a fully branded experience for your data rooms

Accessible - Cells allows approved users to securely access sensitive documentation like M&A due diligence, contracts, legal discovery, and financials from anywhere and on any device.

Activity Tracking and Audit Log: Cells tracks all user and file activity (views, edits, downloads, shares, deletions documents as well as time and location of access) to ensure the integrity of your data.

Scalable - The number of documents organizations need to manage keeps skyrocketing. Cells leverages best-in-class cloud technologies like Helm and Kubernetes to put enterprise-level scalability within everyone's reach.

Cost-effective - Because it's self-hosted, highly scalable and multi-cloud ready, Cells allows you to choose the most efficient storage options and scale up or down quickly
Bonus: On top of its data room capabilities, Cells' sharing and collaboration features boost productivity by letting your teams (and partners) exchange and work together on documents, make changes in real time, and track changes to ensure version control.
Cells - Two Birds. One Stone
Enterprise-level Service and Support
Pydio Cells is an enterprise document management platform, and our team of customer success specialists and expert engineers are standing by to help support your deployment.
We provide Level 3 support for enterprise clients, with rapid troubleshooting when an incident is logged. Enterprise support includes: support and bug-tracking via the Enterprise Customer Dashboard, unlimited incidents during the course of a valid subscription, and guaranteed response times.
We also offer a Premium Remote Support package that covers remote installation, migration, upgrades, performance optimizations, and custom code debugging.
Cells - A Data Room and So Much More
Does your organization need to create data rooms to share data?
Do you need the control that only a self-hosted solution can provide?
Are you looking for a platform that combines scalability, speed, and security?
Pydio Cells gives you full control of your data room environment and can be deployed in a matter of hours on your own hosting. Best of all, there's a package that's right for your organization!