Pydio 7 Definitively Closes the Gap on Online File Sharing Services
Pydio 7 improves collaboration, sharing and scalability: including Workspaces, Inline-Editing, File Gateway and Pydio Booster.
Online Office Suite - increased collaboration
Through a new partnership with Collabora Productivity (the LibreOffice Cloud provider), Pydio 7 now combines file sharing, document editing and online collaboration. Users can now not only access documents online, but also co-author new content and work collaboratively.
File Gateway - increased Security
File Gateway is Pydio's first SaaS offering. It removes the risk and complexity of sharing documents with external parties, by routing share links through a hosted proxy. The file gateway allows users to share documents with any third party, without exposing their server URL and compromising internal server security.
Pydio Booster - increased performance
Pydio Booster is an add-on server solution built in Go, the performant language developed by Google specifically for servers. It delivers major performance enhancements out-of-the box, for both small and large-scale deployments. Pydio is now able to delegate tasks to this new component, dramatically improving overall performance and scalability, while automating secure communication.
Workspaces
The Workspaces function allows Pydio 7 users to organise file sharing and online collaboration by project, team or department. Admins are able to manage access, create specific rules, and define folder permissions within each individual "Workspace", without the need to create a new Pydio instance.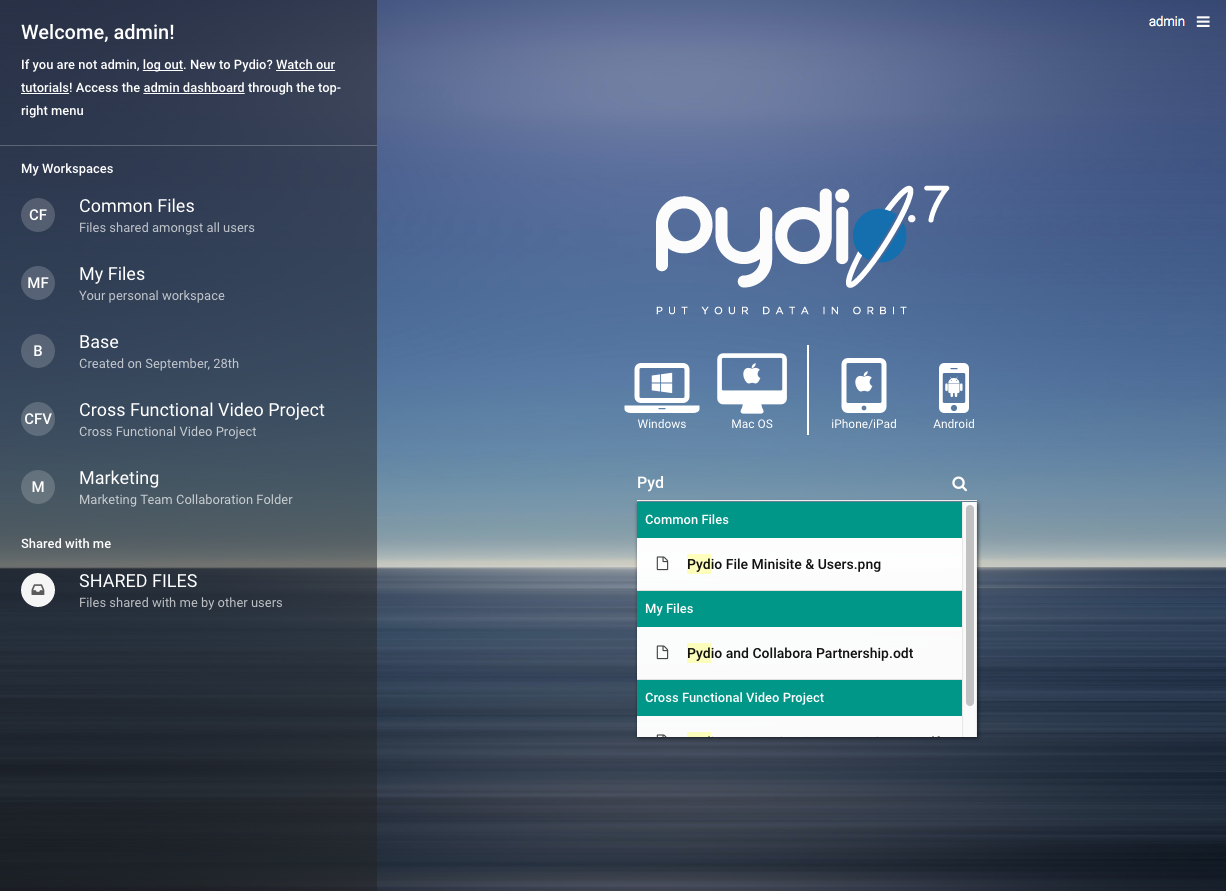 OneDrive Connector
Already available for Dropbox, Pydio users can now connect their OneDrive accounts to Pydio (paid plugin). Basically, Pydio allows you to mount external storage services as secondary storage drivers. You can also allow your users to mount their own external storage​. This new connector is very useful for organisations looking to implement both public and private cloud storages for their file sharing solution.
Enterprise Distribution
Pydio 7 also sees major enhancements to its Enterprise Distribution, which builds on the full-featured Community Edition with an additional dashboard and plugins for simplifying large-scale deployment, administration, security and integration. The new release brings many new features in this additional dashboard, as well as new plugins and a fully revamped LDAP plugin including ready-to-use templates for most common directories.
Many under-the-hood improvements
Pydio 7 also sees major enhancements under-the-hood : PHP code underwent a massive rewrite, following the PSR-7 pattern and using the Zend / Diactoros implementation.
Our REST API was also fully rewritten strictly following RESTful specifications and OpenAPI description file
TO LEARN MORE ABOUT ALL THE NEW FEATURES IN PYDIO 7 AND SEE THE FULL CHANGE LOG, READ THE RELEASE NOTE
Need to Balance Ease-of-Use with Security? Pydio Cells Can Help.
If your organization is serious about secure document sharing and collaboration you need to check out Pydio Cells. Cells was developed specifically to help enterprises balance the need to collaborate effectively with the need to keep data secure.
With robust admin controls, advanced automation capabilities, and a seamless, intuitive end-user experience Pydio is the right choice for organizations looking to balance performance and security without compromising on either. Try Cells live for yourself. Or click on the button below to talk to a Pydio document sharing specialist.
Talk to an expert