Pydio Cells reaches stable state!
Hi folks,
We are thrilled to announce today that our brand new file sharing platform has reached stable state: Pydio Cells 1.0.0 is ready to download, and we are awaiting your feedbacks with great anxiety!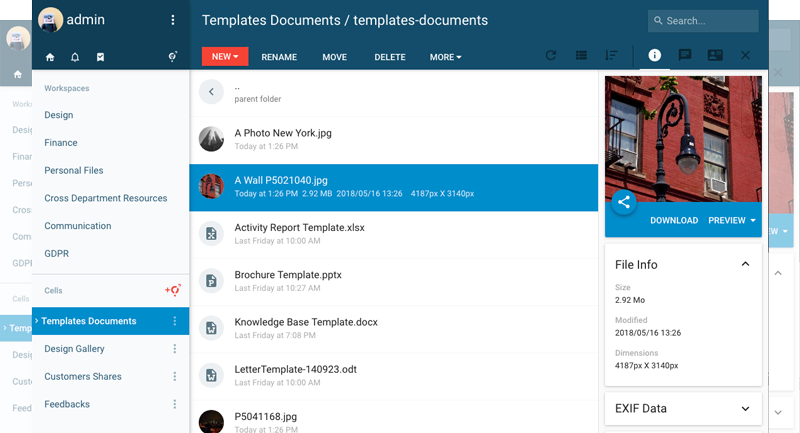 Pydio Cells is a full rewrite of Pydio in Go and following a micro-services architecture, to overcome inherent PHP limitations and provide you with a future-proof and modern solution for collaborating on documents.
What's in the box?
For Pydio 8 users, the interface has been left globally untouched, providing a continuous experience (and no hard feelings).
But with the "Cell" concept, we have combined "workspaces" and "sharing" features to create an ultimate collaboration experience: people can now easily create their own Cells based on folders, teams of users or any topic of their choice, in a way very similar to #channels of popular group-chat applications.
Cells are then displayed as workspaces in the left column, and in fact they do provide an in-app group-chat out-of-the-box as well!
Read the Pydio Cells Overview here
Golang?
As you may have read in our previous emails, this new product was written in Go, an open source language for building application servers.
This means that Cells comes as a precompiled, statically-link binary for your server OS (currently Linux and Mac only), and is fully functionnal at day one. Please note the following :
We still have a dependency to MySQL for persistence, and PHP-FPM for the lightweight layer serving the frontend. We plan to add more DB supports and to remove this PHP requirement soon in the roadmap.
Cells comes bundled with it's own webserver, so there is no need for Apache or Nginx server.
The leap is huge, and for the moment, there is no migration tool between Pydio 8 and Cells. As such, we recommend you to start using Cells for your new deployments.
Need to Balance Ease-of-Use with Security? Pydio Cells Can Help.
If your organization is serious about secure document sharing and collaboration you need to check out Pydio Cells. Cells was developed specifically to help enterprises balance the need to collaborate effectively with the need to keep data secure.
With robust admin controls, advanced automation capabilities, and a seamless, intuitive end-user experience Pydio is the right choice for organizations looking to balance performance and security without compromising on either. Try Cells live for yourself. Or click on the button below to talk to a Pydio document sharing specialist.
Talk to an expert