Welcome to the new Pydio.com
We have published a brand new site combining the former purely Community site pyd.io and our enterprise site. We hope you'll really enjoy the new overhauled experience -- especially on our Docs and Community which have been entirely reorganized to make finding the information you are looking for easier on you.
It has been long journey, and merging a Prestashop website + a Wordpress website into a brand new Drupal one was not easy. Be indulgent, we will roll-out all the expected features in the forthcoming days, but everything should be back up and running smoothly very soon.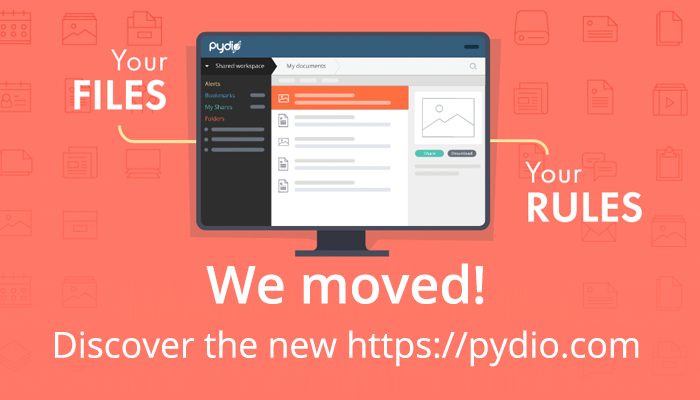 How-to login to this new website?
We imported all the active users from both pyd.io and old pydio.com. Please read the following.
If you already have a login on pyd.io, do not worry! Users who had posted at least one topic or one comment in the forum were migrated to the new site. You should be able to login with your previous credentials (username and password)
If you are a current client, you may need to reset your password. You can do so by using the email log in you had on the previous pydio.com account. Then you will be able to access your account as usual.
Short Tour
The new site is organized into the following pages:
WHY PYDIO
As an early-adopter in your company, you often need to find the right words to explain why Pydio should definitely be deployed in your organization. This section will help you build the business case for Pydio.
PRODUCTS
An in-depth overview of the Pydio Enterprise Distribution and its included features to faciliate an easy deployment of your file sharing and sync solution in your company.
DOCS
A must-read for all Pydio administrators, but for developers as well! Browse our Knowledge Base to learn about specific configurations, security recommendations, and much more...
COMMUNITY
Pydio is an open-source product, and we greatly value our community. Get answers to common issues about Pydio Community on the forum, learn how to contribute or get the latest development builds from this page.
GET PYDIO
Download Pydio Enterprise Distribution here & start your free-trial or request your free 10 user license today.
MY ACCOUNT
Whether you just want to contribute to the forum, or buy a license and manage your subscriptions, log in to your account and manage all things Pydio.
We hope you enjoy the new site.
Need to Balance Ease-of-Use with Security? Pydio Cells Can Help.
If your organization is serious about secure document sharing and collaboration you need to check out Pydio Cells. Cells was developed specifically to help enterprises balance the need to collaborate effectively with the need to keep data secure.
With robust admin controls, advanced automation capabilities, and a seamless, intuitive end-user experience Pydio is the right choice for organizations looking to balance performance and security without compromising on either. Try Cells live for yourself. Or click on the button below to talk to a Pydio document sharing specialist.
Talk to an expert