Why Is Scalability a Priority for Document Sharing?
Scalability isn't just trendy IT jargon. It's a central paradigm of how modern enterprises are enabling digital transformation. In fact, the global document-sharing space is set to grow at a rate of nearly 25% yearly between 2019 and 2023 due to digital transformation. It stands to reason that if all the critical elements of your business infrastructure are digital, you can't afford to adopt solutions that limit performance or have single points of failure. For that, you need flexible, scalable and redundant systems.
Hybrid Cloud Is the New On-Prem
The world of on-prem software has changed dramatically over the last few years. On-prem used to mean housed on a physical server or servers in an enterprise IT environment. But the new reality is that organizations are increasingly turning to hybrid cloud environments that combine the strengths of on-prem hosting with levels of cost-efficiency, speed, flexibility, dependability and, most of all, scalability that a classic on-prem setup would struggle to achieve.
And, of course, if you are in an industry with high security and compliance regulations, SaaS solutions may be out of the question. If you work in one of these sectors, hybrid cloud and private cloud approaches may be your only options to achieve the scalability you are looking for. You can read more about Pydio's approach to security by downloading our Quick Guide to Secure Document Sharing and Collaboration.
Storing and Accessing More and Bigger Documents
The first and most obvious driver for adopting scalable document-sharing solutions is the sheer volume of documents that need to be stored, managed and shared. One estimate cited a total of 15 trillion documents extant in 2021. Five trillion of those were MS Word docs. Two trillion were PDFs, and more than two trillion were cloud docs (Google and other). And in terms of growth, more than 80 billion new MS Word docs are created every year. Video production is booming, graphics are exploding, and every kind of file and format you can imagine is on the rise. The one truism of document sharing is that you will have more and bigger documents to share every year.
Ensuring High Availability Through Redundancy
Your documents are the lifeblood of your company. And every minute your teams, partners and clients can't access those documents is the business equivalent of having a heart attack. Work stops, critical milestones are missed, and confidence is lost.
Here are three key advantages of building with high availability and rapid scalability in mind:
The ability to easily create redundancy with multiple independent instances of your application, ready to handle increased load if there is a demand surge

Added stability through failover capabilities should part of your infrastructure go down due to failure

Added capacity to mitigate cyberattacks like DDoS
Controlling Cost Through Scalability
When people talk about scalability, they mostly focus on scaling up to meet peak demand or to increase storage capacity. Yes, that is an important element in the scalability equation. Your organization needs to understand your baseline usage needs and then structure your network to scale accordingly.
But scaling down, paying only for the computing and storage you need at any time, is another crucial part of the value equation. In a truly flexible and scalable environment, the ability to rapidly spin down resources as needed means that enterprises aren't driving up their IT spend – paying to keep unused capacity idling just in case. When building highly resilient architectures, it's important to keep an eye on cost because these types of systems carry the risk of overconsumption.
Stay Tuned
For today, we've focused on why having a scalable document sharing and collaboration platform should matter to you and your organization.
Later this month, we'll be launching Pydio Cells Version 4 with a brand new architecture that makes scaling easy and efficient. Stay tuned for upcoming posts where we'll get into how Cells V4 optimizes scalability and dependability for document sharing by decoupling the Cells application and externalizing service layers to create a container that is easy to distribute and replicate.
Find Out How Cells Can Help Overcome Your Sharing Challenges
If your organization needs to share documents at scale while maintaining security, compliance and ease of use, then Cells Version 4 is the solution for you. Talk to one of our experts to find out more about how Cells V4 can help meet the challenges of secure sharing at scale.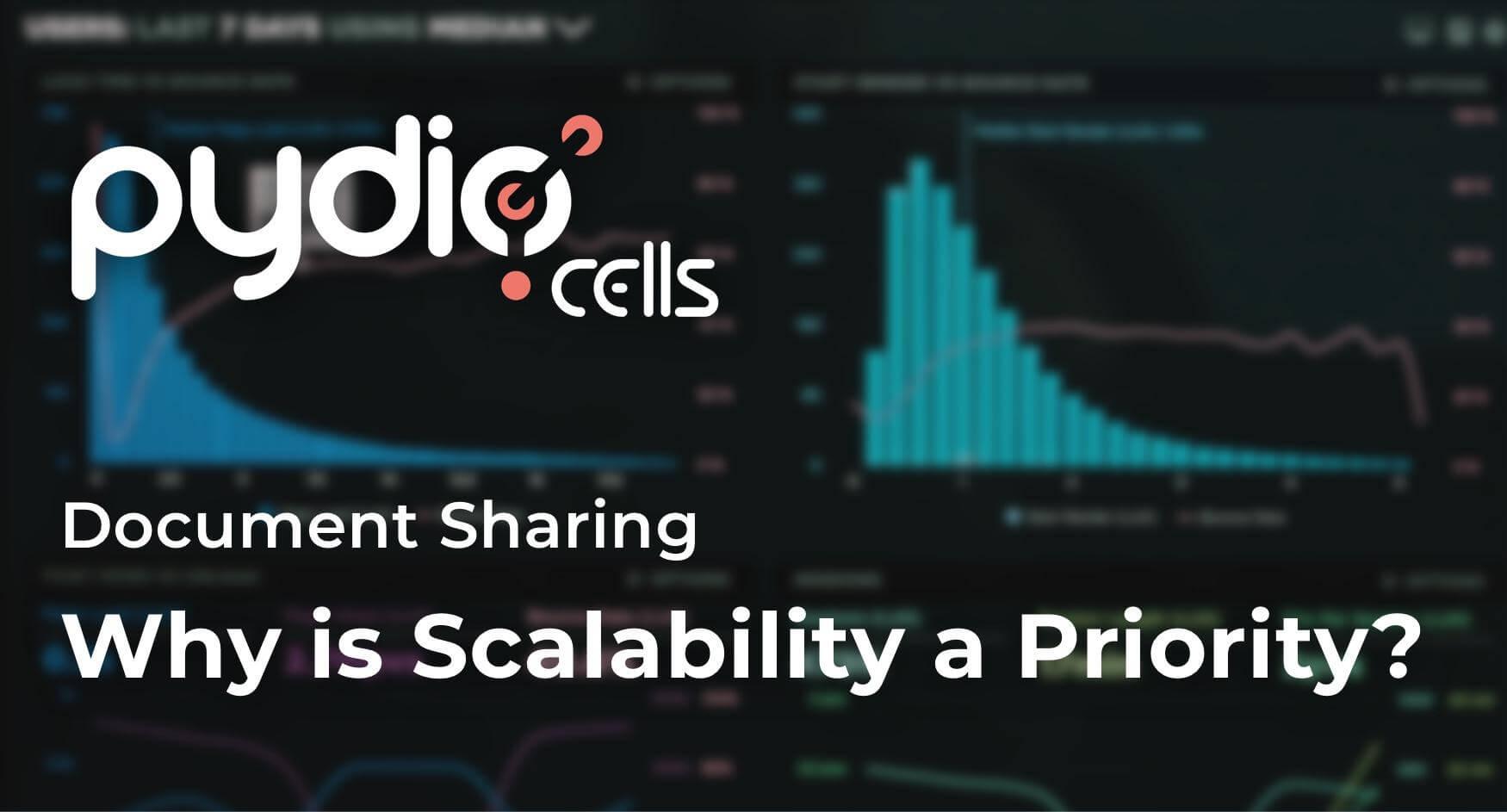 Need to Balance Ease-of-Use with Security? Pydio Cells Can Help.
If your organization is serious about secure document sharing and collaboration you need to check out Pydio Cells. Cells was developed specifically to help enterprises balance the need to collaborate effectively with the need to keep data secure.
With robust admin controls, advanced automation capabilities, and a seamless, intuitive end-user experience Pydio is the right choice for organizations looking to balance performance and security without compromising on either. Try Cells live for yourself. Or click on the button below to talk to a Pydio document sharing specialist.