Document Lifecycle Management for Secure Document Sharing
This may come as a surprise to some of you, but it really shouldn't. Documents (at least some of them) aren't immortal. There are certainly some documents that need to be kept permanently, but the vast majority of documents have a useful life, and maybe a legal life, and when those two are over… it's time to go to the great shredder in the sky. There are two main drivers behind document lifecycle management: limiting storage bloat and diminishing the potential liability associated with the unauthorized release of documents.
What Is the Document Lifecycle
The document lifecycle is the sequence of stages that a document goes through from its creation to its eventual storage or destruction. It includes how long documents should be retained, where they should be stored, how changes can be traced, and how they can be recovered in the event of a disaster.
https://whatis.techtarget.com/definition/document-lifecycle
5 Stages of the Document Lifecycle
Policy: The first step in the process is to define the what, who, where, and when and create a written policy to be implemented

Categorization: Next, documents are classified and tagged by category based on their content and purpose to prepare them for storage

Secure storage: Documents are then stocked in a repository so they can be accessed securely, and the backup strategy

Sharing and collaboration: based on the policies developed in Step 1, the documents are made available to identified users to be edited, shared, and collaborated on

End-of-life: Again, based on the parameters defined in the policy developed in phase 1, documents are either kept permanently available, archived to slow storage, or destroyed/deleted. This reduces clutter, saves on fast-growing storage costs, and minimizes the risk of unwanted release of personal and/or proprietary information.
3 Major Lifecycle Challenges for Sharing and Collaboration
Enforcing document lifecycle policies can be a lot of work, especially if it falls to admins to do it manually because the sharing platform doesn't have the capability to automate key processes.
At the beginning of the process, granting access can be time-consuming if admins have to apply policies manually.
Another challenge is versioning. Past versions of documents can build up, cluttering your systems and inflating your storage needs. Many systems rely on manual pruning to apply rules and policies regarding version preservation. Beyond a certain scope, this sort of approach can overload admins.
And at the other end of the lifecycle, managing document archiving and deletion is another key process that can be time-consuming. Compliance, legal requirements, and a raft of other industry-specific regulations impact how long documents need to be preserved and how and when they must be erased.
Manual lifecycle management is time-consuming and can be overwhelming for admins.
How Can Pydio Help?
Automating Access Grants to New Users
Pydio Cells uses role abstraction to define authorizations and policies. Each role in Cells is basically a container for an Access Control List (ACL), which is a set of permissions that either grants access to specific content or stores configurations (like Actions and Parameters custom values). Click here to learn all about role-based access in Cells.
Granting Access via Security Policies
To take security to the next level, you might also add a layer of security policies on top of role-based access. Security policies are basically a set of rules that are evaluated at runtime, taking into account contextual information such as the HTTP Request metadata (hostname, client IP, HTTP method, etc.) or the file or folder metadata (type, name, extension, user-defined tags, etc.). They help reduce your risk profile by evaluating the context of use rather than just the user's role. With Pydio Cells, you can set up granular security policies, and you can automate their application via Cell Flows. You can learn more about security policies here.
Controlling Version Control
Versioning is part of Cells' core functionality. When you enable versioning, every time a user modifies a file, it creates a new version that is considered canonical. Previous versions are archived and eventually discarded depending on the pruning policies. Cells includes a number of preset pruning policies, or you can define your own. Either way, it's important to understand that what you keep will impact how much data you are storing. You can read up on versioning in Cells here.
The Urge to Purge
Many of the documents your team works on don't need to be retained forever. Once you've defined your end-of-life policy, Cells Flows can help you by automating the implementation of your purge processes. Flows even has three preset jobs you can implement to take over purging. Learn about purging based on document age here.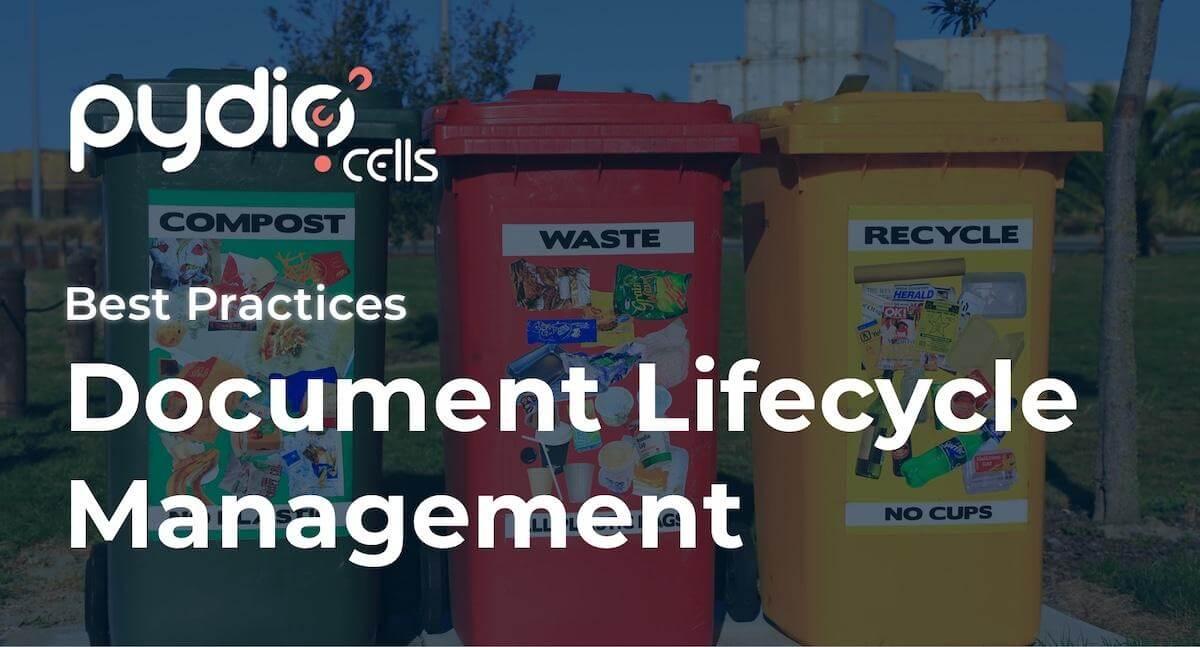 Need to Balance Ease-of-Use with Security? Pydio Cells Can Help.
If your organization is serious about secure document sharing and collaboration you need to check out Pydio Cells. Cells was developed specifically to help enterprises balance the need to collaborate effectively with the need to keep data secure.
With robust admin controls, advanced automation capabilities, and a seamless, intuitive end-user experience Pydio is the right choice for organizations looking to balance performance and security without compromising on either. Try Cells live for yourself. Or click on the button below to talk to a Pydio document sharing specialist.
Talk to an expert