File Transfer vs. Document Sharing and Collaboration - The Answer is Clear
"Ahhh, the link has expired. Can you resend?!"
File Transfer solutions are an old answer to an old problem.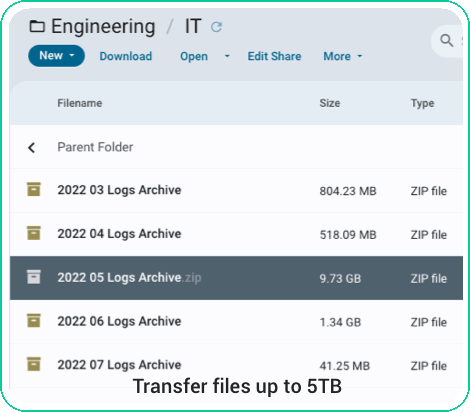 Does this ring a bell?
Upload your document…
Send an alert email…
Download the doc or file…
Do whatever you need to do…
Then re-upload to send it back…

It's a lot of work, and it's work you don't need to do if you have a document-sharing and collaboration platform.
Discover Pydio Cells
Pydio Cells is a powerful, self-hosted document management, sharing and collaboration solution that also takes care of all your File Transfer needs. All in a single, affordable, enterprise-level platform.
Do you need to transfer large files? Cells does that! With Cells, you can upload and download files up to 1TB (some popular solutions limit you to just 100 GB).
Need Fast File Transfer? Cells does that. Cells' flat architecture allows for low super latency. And because it's self-hosted, the only speed limits are the ones you set.
Need to set an expiring link? Yep, Cells does that too. Cells gives you the ability to customize how long the link stays available or even send links that don't expire. How nice is that!
Need to share links to docs, files, or folders that don't expire? That's kinda the core of what we do.
Need to transfer securely from any device? Cells' mobile apps provide secure file transfer capabilities as well as secure collaboration.
Need to create your own branded file transfer experience? Of course, we do that.
Sharing & Collaboration > File Transfer So if you are still paying for a File Transfer solution, maybe you should think about upgrading to a document-sharing and collaboration platform.
Pydio Cells makes life easier for your teams and partners while also providing robust management tools for admins as well as enterprise-level security and scalability.
Cells - Two Birds. One Stone
Enterprise-level Service and Support
Pydio Cells is an enterprise document management platform, and our team of customer success specialists and expert engineers are standing by to help support your deployment.
We provide Level 3 support for enterprise clients, with rapid troubleshooting when an incident is logged. Enterprise support includes: support and bug-tracking via the Enterprise Customer Dashboard, unlimited incidents during the course of a valid subscription, and guaranteed response times.
We also offer a Premium Remote Support package that covers remote installation, migration, upgrades, performance optimizations, and custom code debugging.
Skip the File Sharing Solution and Put Cells Document Management, Sharing and Collaboration to Work for You
Does your organization need to transfer large files?
Does it need to manage, share and collaborate on documents?
Do you need the control that only a self-hosted solution can provide?
Are you looking for a platform that combines scalability, speed, and security?
Pydio Cells gives you full control of your document management environment and can be deployed in a matter of hours on your own hosting. Best of all, there's a package that's right for your organization.