Self-Hosted Document Management, Sharing and Collaboration in One Platform
Pydio Cells is a powerful, self-hosted document management solution that can help businesses of all sizes meet the challenges of document management, sharing and collaboration, all from a single, affordable platform.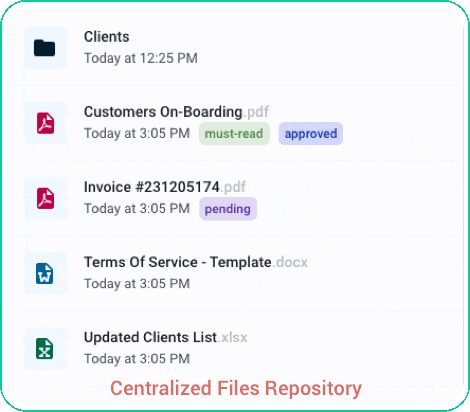 How Can Cells Help With Document Management?
Although it was originally developed as a document-sharing and collaboration tool, Cells is actually a full-featured document management solution.
Advanced Document Management - Cells provides indexing, metadata, multiple levels of highly configurable access control, in-depth security capabilities and, of course, full integration with your SSO technology

Rich Lifecycle Management - Document lifecycle management capabilities are at the heart of any document management system. With Cells, you can implement simple strategies in minutes or develop complex, highly-automated, multi-stage strategies.

Improve Efficiency - Because it's self-hosted, highly scalable and multi-cloud ready, Cells allows you to choose the most efficient storage options and scale up or down quickly

Access Anywhere, Anytime on Any Device - Cells allows your teams, partners, and even customers to access documents securely from anywhere and on any device

Optimize Efficiency with Flows - Cell Flows, our powerful, no-code automation engine, lets you streamline workflows, automate repetitive and time-consuming task, and even connect with outside systems, taking your document management sharing and collaboration to the next level

Boost Teamwork - Sharing and collaboration features let your teams (and partners) exchange and work together on documents, make changes in real time, and track changes to ensure version control

Easy Scalability - The number of documents organizations need to manage keeps skyrocketing. Cells leverages best-in-class cloud technologies like Helm and Kubernetes to put enterprise-level scalability within everyone's reach.
Cells - Two Birds. One Stone
Enterprise-level Service and Support
Pydio Cells is an enterprise document management platform, and our team of customer success specialists and expert engineers are standing by to help support your deployment.
We provide Level 3 support for enterprise clients, with rapid troubleshooting when an incident is logged. Enterprise support includes: support and bug-tracking via the Enterprise Customer Dashboard, unlimited incidents during the course of a valid subscription, and guaranteed response times.
We also offer a Premium Remote Support package that covers remote installation, migration, upgrades, performance optimizations, and custom code debugging.
Put Cell Document Management, Sharing and Collaboration to Work for You
Does your organization need to manage, share and collaborate on documents? Do you need the control that only a self-hosted solution can provide? Are you looking for a platform that combines scalability, speed, and security?
Pydio Cells gives you full control of your document management environment and can be deployed in a matter of hours on your own hosting. Best of all, there's a package that's right for your organization.