True Self-Hosted, Enterprise Document Sharing with Cells
If you need to share and collaborate on documents with internal teams, partners and even clients of the general public (and to be honest, who doesn't these days?) but can't use SaaS platforms for security, compliance or privacy reasons, Cells has you covered.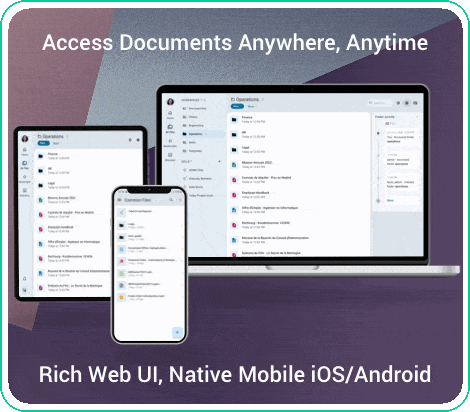 Share and Collaborate on Documents
Pydio Cells is a highly secure, cloud-native, scalable, self-hosted, open-core document sharing and collaboration platform that is intuitive for end users and powerful for admins - wow that was a mouthful.
Here are a few of the reasons Cells might be right for your organization:
Full control: Because Cells is self-hosted and runs on your servers or in your private cloud, you control everything from where your data is stored to performance and security.
Intuitive end-user experience: Cells' near-zero learning curve means users are up and running, creating collaboration spaces, sharing documents and working together from day 1 without any specialized training.
Seamless collaboration: The platform gives your teams the ability to work together seamlessly, without worrying whether they are using the latest version of a file, as well as helpful features like access control and the ability to set expiring links at the Cell and document level.
Advanced automation - Cell Flows, our powerful, no-code automation engine, saves you time and money by automating time-consuming and repetitive tasks, building connections with third-party platforms and creating complex, multi-stage workflows to optimize efficiency.
Security in our DNA: From SSO to ACLs, Cells is a security-first platform that doesn't compromise on usability. Learn more about Cells' security in our whitepaper.
Advanced search: With all the documents and files your teams create, finding anything can quickly become a challenge. Cells' powerful search functionality now includes NLP-powered assisted search to provide helpful suggestions on search terms.
Access on the go: Cells allows your teams, partners, and even customers to search for and access documents securely from anywhere and on any device.
Analytics and compliance: Cells has a full suite of customizable dashboards as well as reporting and compliance audit tools to help admins and managers do their jobs efficiently.
Cells - Two Birds. One Stone
Enterprise-level Service and Support
Pydio Cells is an enterprise-sharing and collaboration platform, and our team of customer success specialists and expert engineers are standing by to help support your deployment.
We provide Level 3 support for enterprise clients, with rapid troubleshooting when an incident is logged. Enterprise support includes: support and bug-tracking via the Enterprise Customer Dashboard, unlimited incidents during the course of a valid subscription, and guaranteed response times.
We also offer a Premium Remote Support package that covers remote installation, migration, upgrades, performance optimizations, and custom code debugging.
And much much more
Although it was initially designed as a document-sharing and collaboration platform our clients are using Cells in a variety of different ways that you might find helpful.
File Transfer - Most of our clients tell us they no longer use file transfer solutions like WeTransfer or Dropbox and just rely on Pydio.
Document Management - Cells provides a winning combination of advanced document management features and powerful sharing and collaboration capabilities. Our clients tell us they love the fact they don't have to operate (and pay for) two separate platforms.
Virtual Data Room - Virtual data rooms are still a functionality many organizations need to share and collaborate on sensitive documents. like financials and M&A. Cells can also double as your data room solution.
Document Portal - Maybe it's just fancy marketing-speak for a sharing and collaboration tool, but several of our clients tell us they use Cells as their document portal.
Digital Asset Management - Cells can manage more than just files; it is also a great tool for storing, managing, cataloging and sharing a wide range of files. So for several of our clients, Cells plays the role of a DAM solution.
Knowledge Management - If you can't find the knowledge your organization creates, then you can't leverage it. Clients tell us that they take advantage of Cells' metadata, tagging, automation and advanced search to look after their knowledge management needs.
Is Cells Right for your Organization?
Does your organization need to share and collaborate on documents and files?
Do you need the control that only a self-hosted solution can provide?
Are you looking for a platform that solves problems without adding complexity to your IT challenges?
Pydio Cells is a perfect solution to your sharing and collaboration needs.