Law Firms & In-House Legal Teams Stay Secure & Power Through eDiscovery with Cells
For law firms and corporate legal departments, the three main requirements that differentiate their priorities from others are confidentiality, discoverability and spoliation. The process of eDiscovery (or e-Disclosure as it's called in the EU) has changed the way major litigation is carried out. Though it was supposed to accelerate and streamline court cases, eDiscovery has actually driven significant new costs for organizations whose data is not easily processed. Organizations are increasingly changing their data governance practices to align with the needs of eDiscovery, but that requires software that can support these policies.
The legal services sector has unique needs and Pydio Cells is the only document sharing and collaboration platform designed to meet those requirements and more. Let's explore those needs and how Cells can help.
For Law Firms
For law firms and other organizations in the legal services sector, confidentiality and security are prime concerns whenever documents are shared. Your duty of care regarding client confidentiality is higher than in other industries, so you have to take documented steps to protect that confidentiality. You can download our security whitepaper here.

In legal services, you may not only have to comply with general data privacy rules from around the world, including GDPR, CCPA, LGPD, and POPI; you may also need to adhere to industry- or sector-specific standards, adding another level of complexity to your document sharing.

Your own communications may also become part of the scope of discovery in legal proceedings, so your internal systems need to be eDiscovery compatible.
For Corporate Legal Departments
The system you use needs to conform to all applicable privacy, governance and security standards at a minimum

If you end up in court, your documents and communications could come under scrutiny. Hiring a law firm to intake, store and analyze your data can incur astronomical costs.

All your data – including unstructured data like documents – need to be stored in compliance with electronically stored information (ESI) preservation procedures to allow for forensics to establish admissibility in court proceedings
How Does Pydio Work for Law Firms and Legal Departments
Pydio's security-first architecture offers eight layers of access control as well as the ability to integrate custom security and lifecycle management processes via our Flows automations. No matter what regulations or standards you need to adhere to, Pydio makes it easy for you to achieve compliance

Pydio's document history metadata gives you the provable chain of custody to avoid spoliation. Cells provides quick access to who documents were shared with, how they were altered, and any comments exchanged using the platform via powerful search tools.

Pydio's structured document metadata gives your legal department the visibility and access they need to put documents on legal hold and even take on discovery on site

Our standardized and structured data is also easy to export to external eDiscovery systems if needed. And our Flows automations even make it possible to set up automated workflows to transfer to an external specialized eDiscovery platform via custom Zappier integration
Build Custom Flows to Improve Document Access for eDiscovery
If you need to export your documents and metadata to an eDiscovery platform or external storage provider, our Cells Flows automation builder already has in place all the building blocks needed to create custom integrations to automate data transfer.
Cells Is the Smart Choice for Law Firms and Legal Departments
Pydio Cells balances useability and security to offer a platform that combines ease of use for end-users with advanced security and the visibility and control to support your eDiscovery needs. If you want to read more about Cells for the Legal Services industry, click here.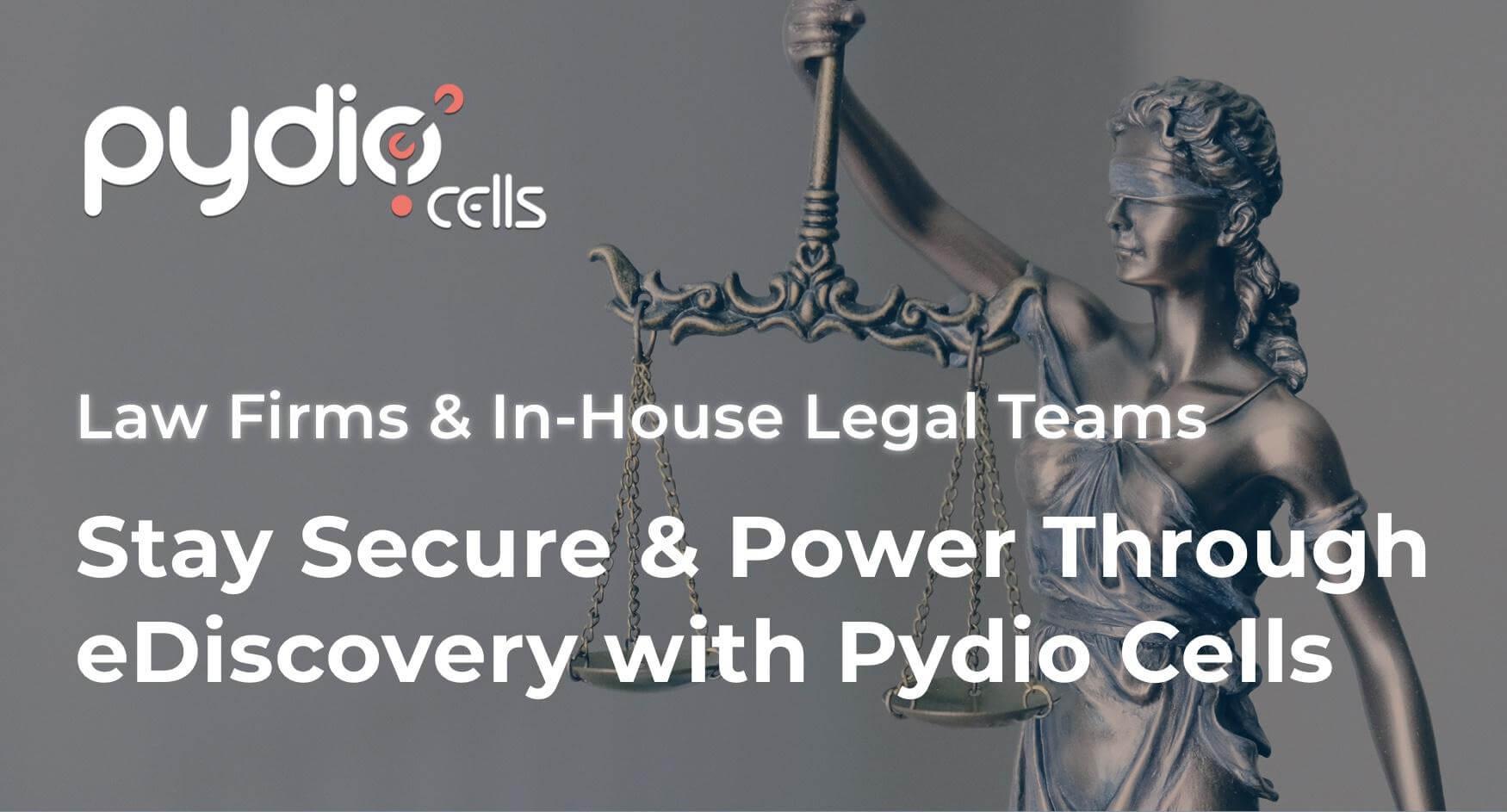 Need to Balance Ease-of-Use with Security? Pydio Cells Can Help.
If your organization is serious about secure document sharing and collaboration you need to check out Pydio Cells. Cells was developed specifically to help enterprises balance the need to collaborate effectively with the need to keep data secure.
With robust admin controls, advanced automation capabilities, and a seamless, intuitive end-user experience Pydio is the right choice for organizations looking to balance performance and security without compromising on either. Try Cells live for yourself. Or click on the button below to talk to a Pydio document sharing specialist.