Combine a Self-Hosted Knowledge Management System and Document Sharing and Collaboration in One Platform with Pydio Cells
Knowledge management is a key challenge to today's organizations.
Your business is constantly generating new knowledge. But when you create, modify and update hundreds, thousands, even tens of thousands of documents and files a day, it simply isn't feasible to manually categorize, tag, add metadata, and summarize them to keep that knowledge findable.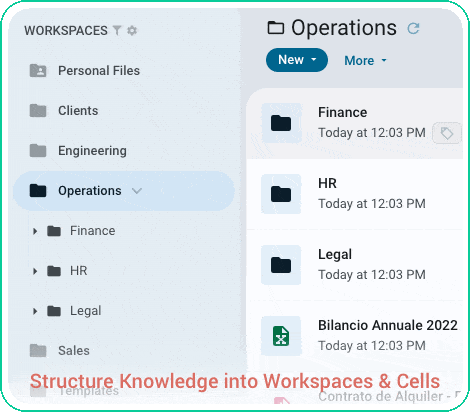 Do You Need a Stand-Alone Knowledge Management System (KMS)?
The quick answer is probably not. Pydio Cells is a powerful, self-hosted platform that combines the essential functionality of a document management, sharing and collaboration platform with the rich context and searchability features required to meet your knowledge management challenges.
Advanced Knowledge Management System
Here are a few of the ways we help you meet your knowledge management challenges:
Automated knowledge capture: With Pydio Cells, you can implement a knowledge management taxonomy that structures the creation of new Cells (think of them as folders) and the documents within those Cells. So each new Cell and document is findable from minute one.
Flexible metadata: Cells allows users to create, customize and even automate the completion of metadata fields to ensure your digital assets are findable and manageable.
Advanced search: Your assets are only valuable if you can find them. Cells' powerful search functionality now includes NLP-powered assisted search to provide helpful suggestions on search terms. And Cells can search across all of your connected document storage.
Seamless collaboration: The platform gives your teams the ability to work together seamlessly without worrying whether they are working with the latest version of a file, as well as access control and helpful features like expiring links at the Cell and document level.
Access on the go: Cells allows your teams, partners, and even customers to search for and access documents securely from anywhere and on any device.
Security: From SSO to ACLs, Cells is a security-first platform that doesn't compromise on usability. Learn more about Cells' security in our whitepaper.
Analytics and compliance: Cells has a full suite of customizable dashboards, reporting, and compliance audit tools to help admins and managers do their jobs efficiently.
Optimize efficiency with Flows - Cell Flows, our powerful, no-code automation engine, lets you automate document tagging and metadata creation and much much more.
Interoperability: Cells gives you the ability to quickly build custom connectors to other platforms via our Flows automation builder. Cells integrates via Flows with content management systems (CMS), marketing automation systems, and project management tools, to ensure seamless workflows.
Cells - Two Birds. One Stone
Enterprise-level Service and Support
Pydio Cells is an enterprise-sharing and collaboration platform, and our team of customer success specialists and expert engineers are standing by to help support your deployment.
We provide Level 3 support for enterprise clients, with rapid troubleshooting when an incident is logged. Enterprise support includes: support and bug-tracking via the Enterprise Customer Dashboard, unlimited incidents during the course of a valid subscription, and guaranteed response times.
We also offer a Premium Remote Support package that covers remote installation, migration, upgrades, performance optimizations, and custom code debugging.
Cells - A Knowledge Management Solution and So Much More
Does your organization need to provide visibility into the knowledge it creates?
Do you need the control that only a self-hosted solution can provide?
Are you looking for a platform that solves problems without adding complexity to your IT challenges?
Pydio Cells is a perfect solution to your knowledge management challenges with the added bonus of providing a full document management, sharing and collaboration platform at no extra cost.