Tough Privacy, Security & Compliance Requirements Make Cells the Choice for Finance
Compliance standards in the financial industry are made up of a tangled web of national and transnational rules and regulations, including SOX (US), FINRA (US), C-SOX (Canada), EBA, ESMA (EU) and FCA (UK), just to mention a few. Document sharing and collaboration is a particular challenge for the financial industry because of the elevated standards for compliance, confidentiality and security. Providing user-friendly document sharing while adhering to the requirements of all these standards and regulations requires a truly enterprise-ready platform. That's where Pydio Cells comes in.
Whether your organization is sharing documents as part of M&A activities, audit reports, quarterly financial reporting or in the course of everyday activities like onboarding a new client or partners – almost every document your team shares internally and externally is subject to some sort of compliance regulation. But Pydio Cells was developed from the ground up with exactly these types of record keeping and reporting requirements in mind.
6 Ways Cells Can Help Healthcare & Life Sciences Organizations
Pydio connects to all your document sources to provide a centralized and secure method of accessing and sharing regulated financial data. The Cells Sync App even gives your team the power to share documents and files securely and privately via their mobile devices. Here are some other reasons Cells is perfect for any organization in the finance space:
Data sovereignty - Cells is self-hosted, giving you control over where your data is stored and allowing your organization to respect any data sovereignty regulations

Data security - Cells is a security-first platform and will help you avoid costly compliance fines for data breaches by securing access and reducing your attack surface via lifecycle management

Privacy - Cells allow you to configure granular, multi-layer access rules to ensure you protect PII and share information only with the appropriate people

Tracking and traceability - Cells' rich metadata means you have full visibility on all documents, including how they are used, shared and modified

Compliance Audits - Cells includes in-depth, flexible, easy-to-set-up audit creation tools to speed up compliance reporting. They can even be automated!

Right to erasure (aka right to be forgotten) - Cells makes it easy to provably remove user data upon request (to comply with privacy regulations such as GDPR)

Open Data Ready - With our open-core architecture and Flows automation language, Pydio is ready to be part of the Open Data revolution taking place in Europe today.
Build Custom Flows
Cells also has the ability to create complex, multi-stage automations and to integrate with other platforms – all via our Flows automations. If you have repetitive, time-consuming data and document manipulations to do, Flows can help. For example, when a compliance report is created, you can automate the communication and approval workflows around that document to accelerate the process and ensure that the report is reviewed and signed off on time.
Whatever your challenge, Flows has the building blocks to help you streamline your processes.
Cells Is the Smart Choice for Finance
Pydio Cells balances useability and security to offer a platform that combines ease of use for end-users with advanced security and the visibility and control to support your privacy and compliance needs. Click here to read more about how Pydio can help organizations in the financial services space.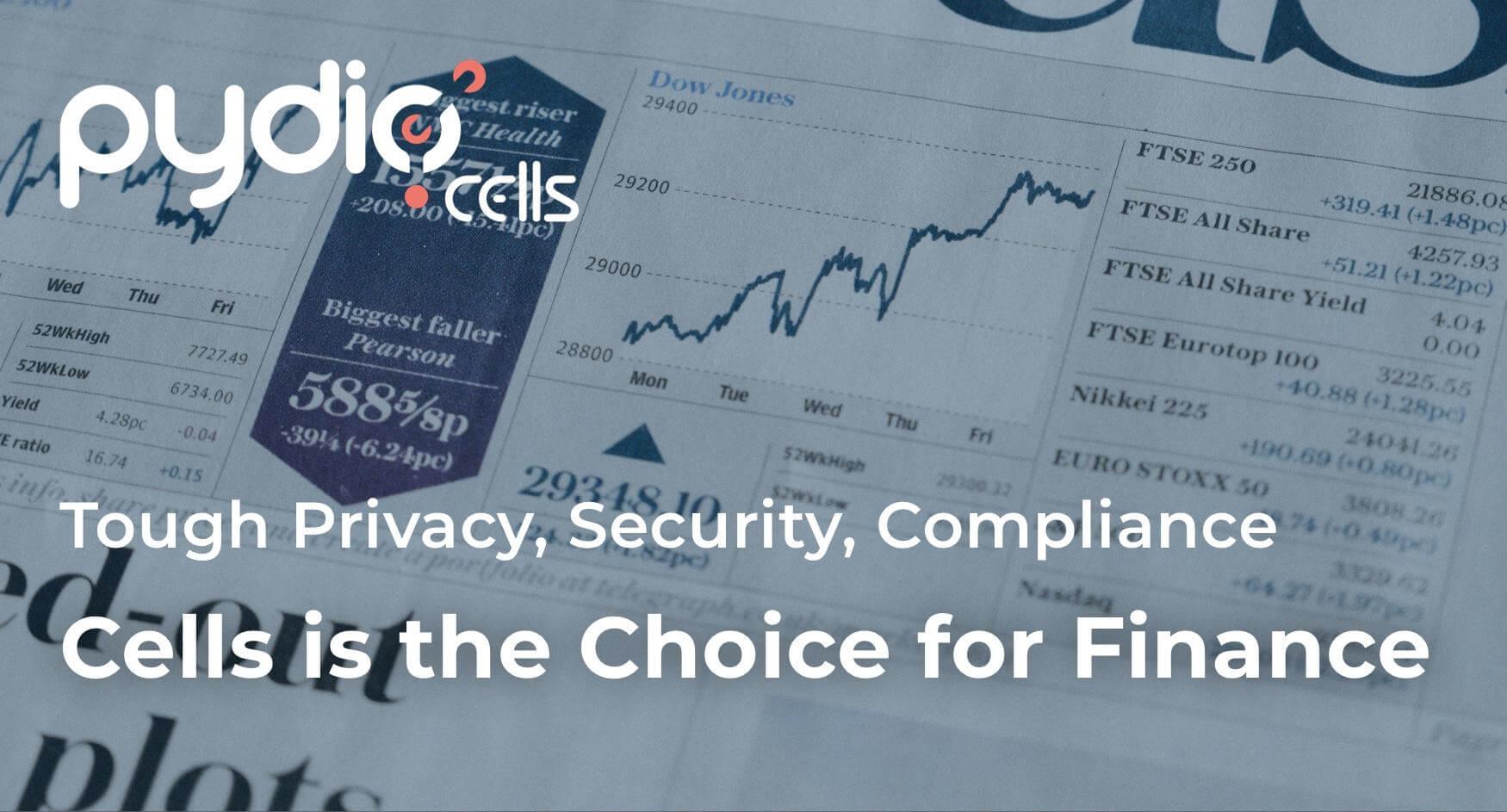 Need to Balance Ease-of-Use with Security? Pydio Cells Can Help.
If your organization is serious about secure document sharing and collaboration you need to check out Pydio Cells. Cells was developed specifically to help enterprises balance the need to collaborate effectively with the need to keep data secure.
With robust admin controls, advanced automation capabilities, and a seamless, intuitive end-user experience Pydio is the right choice for organizations looking to balance performance and security without compromising on either. Try Cells live for yourself. Or click on the button below to talk to a Pydio document sharing specialist.