Self-Hosted Digital Asset Management, Sharing and Collaboration in One Platform
If you are looking for a single, powerful, self-hosted digital asset management (DAM) platform that can also handle the challenges of file sharing and collaboration, your search is over! Pydio Cells is a unified solution that can handle your DAM and sharing workloads.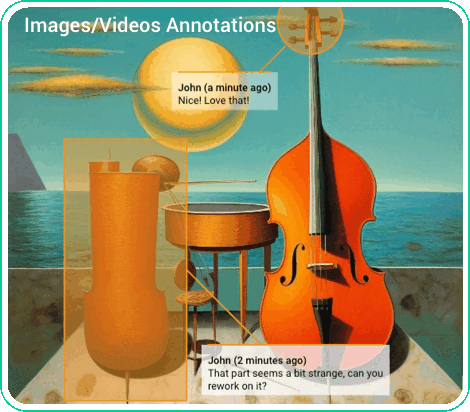 How Can Cells Solve Your Digital Asset Management Challenges?
Although initially developed as a document-sharing and collaboration tool, Cells is also a powerful, full-featured DAM solution that will help your organization cut through the clutter and make your documents findable, shareable and manageable, even at an enterprise scale.
Here is how Cells solves your DAM challenges while providing full-feature sharing and collaboration capabilities.
Ease of use: Any user-facing platform needs to be easy to use, navigate and understand. At the most basic level, a DAM needs to allow users to upload, manage and organize digital assets with minimal effort. Cells has that covered.
Flexible metadata: Cells allows users to create, customize and even automate metadata fields to ensure your digital assets are findable and manageable.
Advanced search: Your assets are only valuable if you can find them. Cells' powerful search functionality now includes NLP-powered assisted search to provide helpful suggestions on search terms.
Role-based access: Access control is a Cells' security superpower (and we have a lot of those). With eight levels of control, administrators can set up granular permissions to ensure that only authorized users can access and edit specific digital assets.
Version control: Cells is a sophisticated collaboration platform. Where some DAM systems may struggle with version control, Cells gives you the capabilities to allow teams to work together seamlessly without worrying whether they are working with the latest version of a file.
Interoperability: Cells gives you the ability to quickly build custom connectors via our Flows automation builder. Our platform is able to integrate with other systems, such as content management systems (CMS), marketing automation systems, and project management tools, to ensure seamless workflows.
Scalability: Being highly scalable in both directions is a key asset not all DAMs have in their toolkit. You can read more about why it's so important here. Cells leverages best-in-class cloud technologies like Helm and Kubernetes to put enterprise-level scalability within everyone's reach. You can read all about how Cells approaches scalability here.
Security: We shouldn't have to say it anymore, but security is a priority when dealing with your data. Cells is a security-first platform that doesn't compromise on usability. Learn more about Cells' security in our whitepaper.
Analytics: Cells has a full suite of admin and user dashboards and reports to allow users to track the performance of digital assets and managers to monitor the overall health and performance of the platform.
Access Anywhere, Anytime on Any Device - Cells allows your teams, partners, and even customers to access files securely from anywhere and on any device - including iOS and Android apps for a full mobile experience.
Optimize Efficiency with Flows - Cell Flows, our powerful, no-code automation engine, lets you streamline workflows, automate repetitive and time-consuming tasks, and even connect with outside systems, taking your document management sharing and collaboration to the next level.
Cells - Two Birds. One Stone
Enterprise-level Service and Support
Pydio Cells is an enterprise document management platform, and our team of customer success specialists and expert engineers are standing by to help support your deployment.
We provide Level 3 support for enterprise clients, with rapid troubleshooting when an incident is logged. Enterprise support includes: support and bug-tracking via the Enterprise Customer Dashboard, unlimited incidents during the course of a valid subscription, and guaranteed response times.
We also offer a Premium Remote Support package that covers remote installation, migration, upgrades, performance optimizations, and custom code debugging.
Put Cells Digital Asset Management, Sharing and Collaboration to Work for You
Does your organization need to manage, share and collaborate on documents?
Do you need the control that only a self-hosted solution can provide?
Are you looking for a platform that combines scalability, speed, and security?
Pydio Cells gives you full control of your digital assets and can be deployed in a matter of hours on your own hosting. Best of all, there's a package that's right for your organization.