Why Upgrade: Get More Scalable, Efficient and Reliable with Cells Connect and Enterprise
The world of on-prem software has changed. On-prem used to mean "housed on your own physical servers," but today's organizations are increasingly turning to hybrid cloud environments that combine the strengths of on-prem hosting with levels of cost-efficiency, speed, flexibility, dependability and, most of all, scalability that a classic on-prem setup would struggle to achieve.
This post is part of a series highlighting the advantages of upgrading from Cells Home to Cells Connect or Cells Enterprise:
Why Is Scalability in Document Sharing Important for Today's Organizations
Efficient Document Management: Scalability is crucial for managing the increasing volume of documents, especially in a world where the size of MS Word, PDF, and cloud docs is continuously growing.
Flexibility: Scalable infrastructure can adapt to changing workload requirements, providing the flexibility to handle varying document storage and sharing needs.
Cost-Efficiency: Scalability allows organizations to pay for computing and storage resources as needed, avoiding the cost of keeping unused capacity idling.
Speed: Scalable systems can rapidly respond to increased demand, ensuring minimal downtime and uninterrupted access to critical documents.
Dependability / High Availability: Scalable solutions can provide redundancy and failover capabilities, enhancing system reliability and reducing the risk of downtime.
Security and Compliance: For industries with strict security and compliance regulations, scalability through hybrid cloud and private cloud approaches may be the only viable option for accommodating growing document volumes.
Security: Scalable systems offer increased capacity to handle cyberattacks like Distributed Denial of Service (DDoS) attacks, enhancing overall security.
Upgrade to Connect or Enterprise for Enterprise-level Scalability
If your organization has been using the Home edition for a while, maybe it's time to boost your scalability options to meet your business's needs. Here are a few of the features that help Cells Connect and Enterprise take advantage of hybrid environments to stay efficient and effective: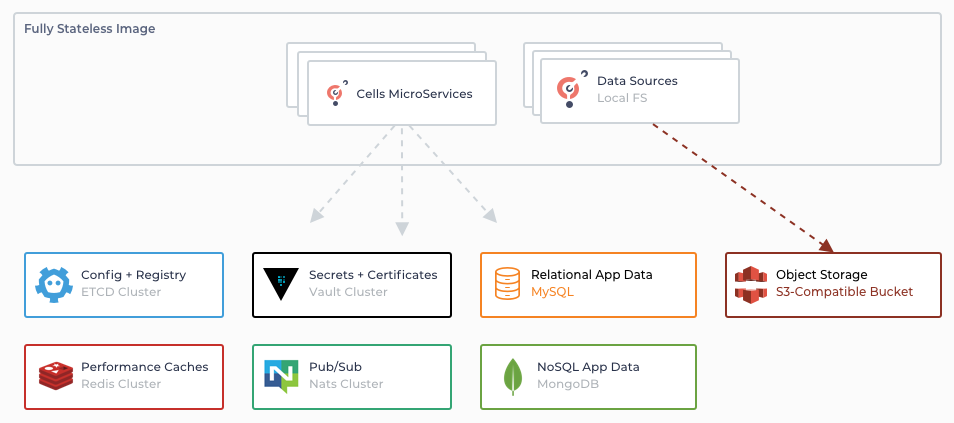 Scale horizontally with our fast and easy Kubernetes-ready cluster setup. Distribute and replicate local storage by switching to ETCD, Mongo, Redis and Nats. Enterprise Edition provides full support for large-scale deployments.
Connect to a wide range of object storage connectors, including Google Cloud Storage and Azure Blob Storage.
Enterprise Edition lets you create your own template paths for datasources sharding across multiple storage types and locations, for hyper-efficient distributed storage.
Keep storage bloat under control with Cells Enterprise custom retention policies for versioning and lifecycle management.
​Cells Flows provides a wide range of Automated system maintenance tools, including activity and log pruning, emptying recycle bin folders, and document archiving operations – all configurable to follow your own rules, and much more.
You can take a deeper dive into the benefits of adopting a scalable document sharing and collaboration platform in a recent post on our blog.
Visit our Pricing page for an overview of Cells Connect and Enterprise Edition. Or set up a session to talk to one of our Cells specialists to find out which version fits your organization best.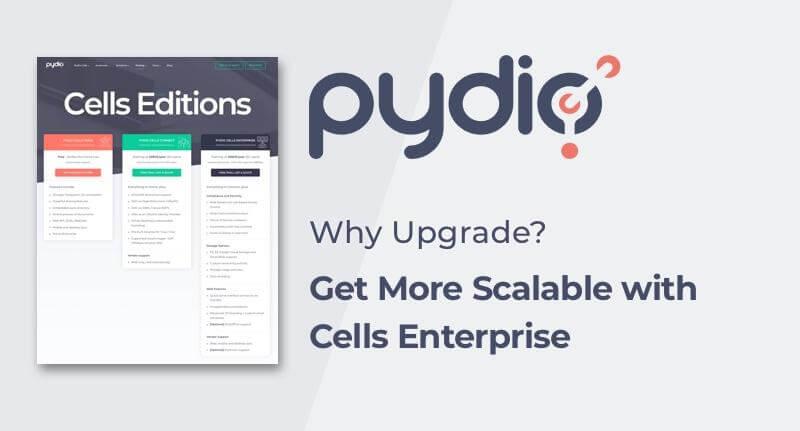 Need to Balance Ease-of-Use with Security? Pydio Cells Can Help.
If your organization is serious about secure document sharing and collaboration you need to check out Pydio Cells. Cells was developed specifically to help enterprises balance the need to collaborate effectively with the need to keep data secure.
With robust admin controls, advanced automation capabilities, and a seamless, intuitive end-user experience Pydio is the right choice for organizations looking to balance performance and security without compromising on either. Try Cells live for yourself. Or click on the button below to talk to a Pydio document sharing specialist.