Why Upgrade: Reporting, Audit and Compliance Capabilities
Another reality of the modern business environment is compliance and the need to be able to audit system usage and manage data. From usage reporting to security audits to compliance documentation for things like GDPR, OSHA, HIPAA or industry-specific ISO certification, today's organizations need the ability to design, produce and share reports on just about everything.
This post is part of a series highlighting the advantages of upgrading from Cells Home to Cells Connect or Cells Enterprise:
Reporting, Audit and Compliance Capabilities (this post)
In this second of our Why Upgrade Cells Home series, we'll look at the advanced reporting, audit and compliance capabilities available in Cells Connect and Enterprise. Cells Home, our free offering, is highly capable, but if you are spending all your time keeping up with reporting, audits and compliance, maybe it's time to boost your sharing and collaboration capabilities to meet your business's needs with Cells Connect or Enterprise.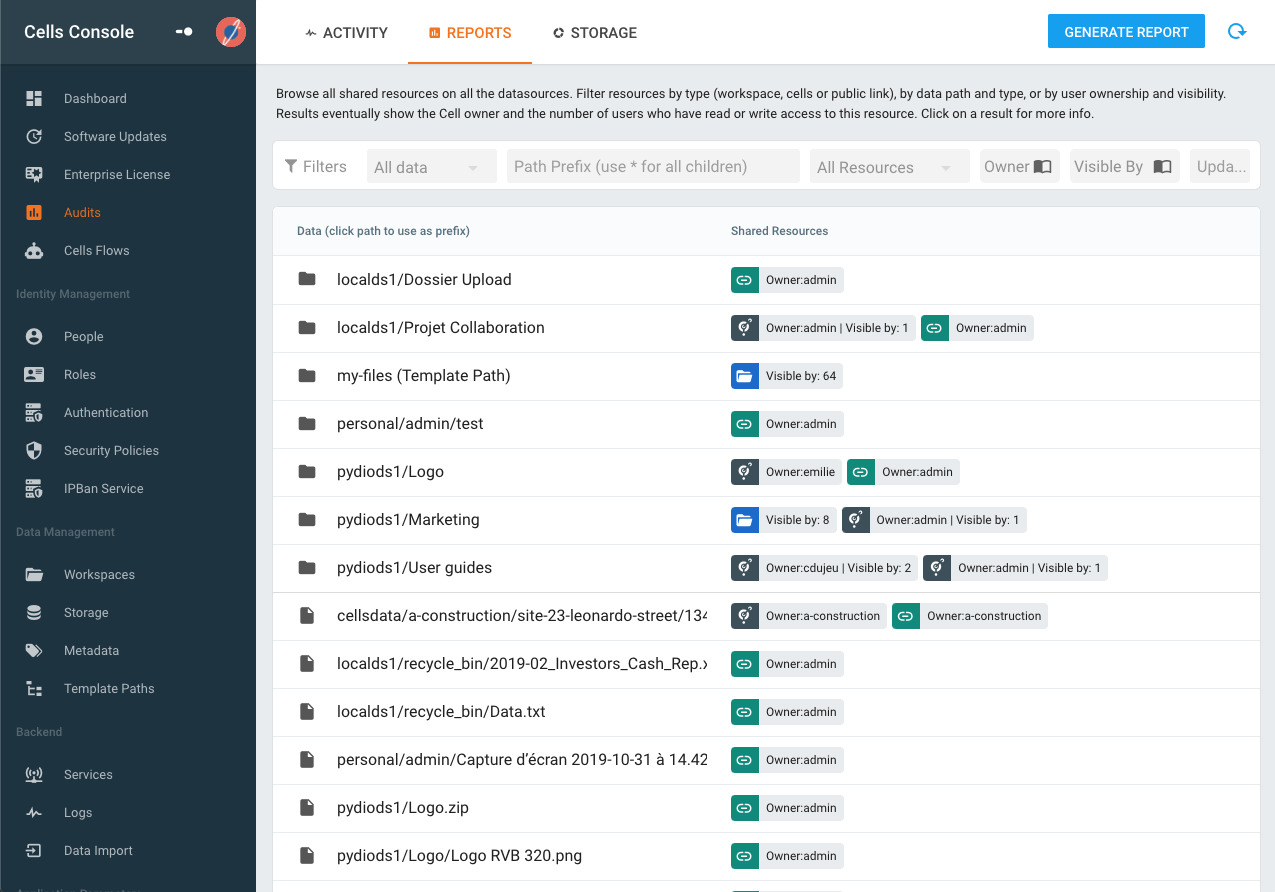 Cells Connect and Enterprise both provide elevated functionality to help you deal with compliance reporting and your own audit requirements, including:
Our main admin dashboard provides top-level visibility on usage and daily activity at a glance, providing a quick overview and the ability to directly detect abnormal usage of the platform.

Workspaces, Cells and complex ACLs are the basic building blocks that allow you to build a compliance-compliant system – storing users' data in separate silos is often a critical compliance requirement, and this can easily be done and even supports separate storage points fed by different data sources.

In addition to the system log, the Cells audit log keeps track of all important activity performed on the platform. It can be accessed and searched directly in the admin console or extracted in JSON or tabular data format for further examination in case of a security issue. You can see all these logs for a specific user in the console.

Every configuration change is recorded in a dedicated history database, and each configuration revision can be replayed and restored. The ability to review configuration changes is an important security feature – allowing you to determine if an admin configuration was changed without a valid reason.

Compliance rules often determine who can access what, so it's vital to be able to take an instant snapshot of these permissions. But, given all the capabilities and permissions layers provided by Cells Enterprise, it can be confusing and inefficient to dig through the mountains of data provided in the global overview to find specifics. Our highly customizable audit tool gives you a "per-folder/per-file" view of the permissions. You can navigate through the data to see exactly how many people can access a branch of the tree, if there are public links without passwords, etc. That way, you can quickly detect issues (e.g. why is this important folder shared with 500 people?).

The audit reports can also be versioned (requires MongoDB adapter) to be able to compare snapshots of the permissions against an earlier point in time.

Another approach can be to extract all permissions on a per-user basis. Using Cells Flows, one can compute and see all the read/write accesses to the workspaces for each user, then export it in a spreadsheet.

Our storage monitoring allows you to monitor meta-trends and usage patterns but allows you to focus down to a user level to quickly find usage abusers.

Our fast and easy-to-configure log and audit reports can be exported in CSV and XLSX formats with the click of a button, dramatically cutting the time you have to spend compiling and formatting your reposts to share.

Create and export your own reports automatically (as JSON or XLSX) using Cells Flows. Finding data, analyzing that data and then producing reports and presentations for external compliance or internal performance monitoring requires time, effort and specialized skills. With Cells Flows, you'll find preset jobs and off-the-shelf building blocks to help you automate the creation of even complex compliance and performance reports. If generating GDPR and other compliance reports is a challenge for your team, Flows has the answer.
Visit our Pricing page to get an overview of Cells Connect and Enterprise Edition. Or set up a session to talk to one of our Cells specialists to find out which version fits your organization best.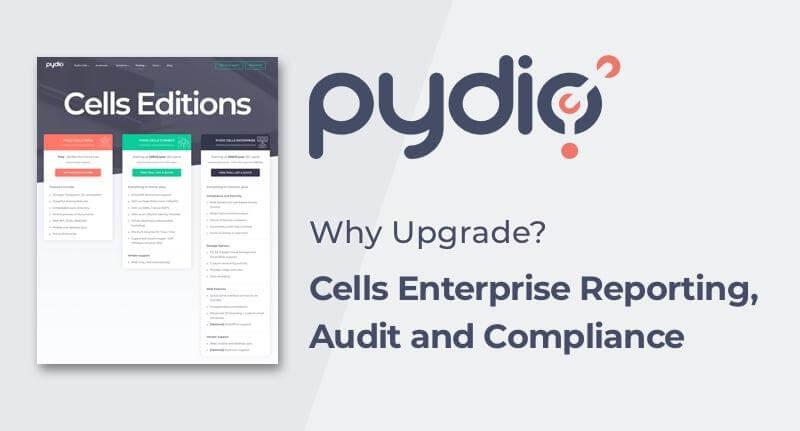 Need to Balance Ease-of-Use with Security? Pydio Cells Can Help.
If your organization is serious about secure document sharing and collaboration you need to check out Pydio Cells. Cells was developed specifically to help enterprises balance the need to collaborate effectively with the need to keep data secure.
With robust admin controls, advanced automation capabilities, and a seamless, intuitive end-user experience Pydio is the right choice for organizations looking to balance performance and security without compromising on either. Try Cells live for yourself. Or click on the button below to talk to a Pydio document sharing specialist.