Why Migrate From Pydio 8 to Cells?
Still a user of Pydio 8, or Pydio 6 or even AjaXplorer?
Here are 5 great reasons to upgrade to Pydio Cells today!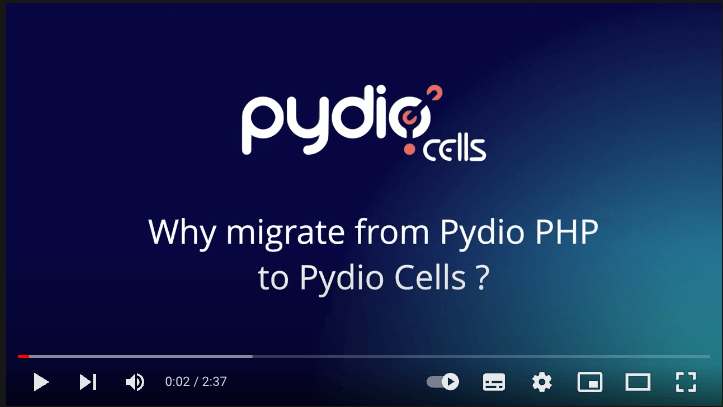 Pydio 8 is No Longer Maintained
Launched almost ten years ago, Pydio (formerly known as AjaXplorer) was written in PHP. After years of loyal services, this technological stack started to show it's security and performance limitations.
To keep at pace with handling more and more files, that are getting bigger and bigger, the Pydio Team needed to write a brand new software in 2018 using the GO language. Pydio Cells was born.
Maintaining two codebases both in term of features and vulnerability patches represents a tremendous amount of work. Pydio 8 and AjaXplorer are no longer updated and may represent a security risk.
Welcome to the Future
GO language (#golang) is a modern network-oriented language written by Google. Ever heard of Docker or Kubernetes? They are written in Go.
Pydio Cells' pre-compiled binary provides all the features required. No more need to install tons of dependencies on top of Pydio to enjoy a full feature set. It even ships with a webserver.
Remember having hard-times with Pydio 8 upgrades? That's a thing of the past. Cells upgrades are entirely automated and safe and consist of a simple binary replacement and restart.
Cells is ready to handle the load : each file can be up to 5TB, datasources are indexed at the speed of light and Cells' micro-service architecture makes it easy to switch from a single-node deployment to multi-node orchestration in data centers.
Zero Onboarding Time for Users
Pydio Cells' web interface has been ported from Pydio 8. For your end-users, screens and features will look very familiar, making the transition seamless.
Browsing files, online previews and online collaborations are similar to Pydio 8. Sharing features are similar as well, except folders shared internally with collaborators will now appear as Cells to your users.
CellsSync, written in Go as well, now replaces PydioSync. Speaking the same language as its server counter-part makes it more robust, more efficient and easier to maintain.
Admin on Steroids
The transition is seamless for administrators as well. User management, workspaces and ACLs are handled in the same way as they were in Pydio 8. Nothing changes (at first sight)!
Workspaces are decoupled from their underlying storage (datasources), and you can set up advanced security rules to compute ACLs dynamically based on connection network, users browsers or files extensions...
Visualize advanced audit reports to monitor who is accessing what at anytime. Connect multiple AD/LDAP directories or setup SSO using OAuth2 protocol, OpenID Connect or SAML. These are just a small part of Cells' new features...
Fast, Easy Migration
Moving from Pydio 8 to Pydio Cells is not a simple upgrade but a migration process. We've developed a dedicated tool for importing all data from your existing instance to a new Pydio Cells.
The Non-intrusive migration tool uses the Pydio 8 REST API to import users, groups, ACLs, workspaces, shares and metadata automatically. Run or test the migration process while keeping your current server live.
Show Stoppers : if you rely on the Pydio samba driver (access.smb) and cannot move on to an NFS mount, or if you rely on PostgreSQL and cannot switch to MySQL or MariaDB, Cells does not support these features.
Ready to switch to Pydio Cells?
If your Pydio 8 instance is a large deployment or if your company has important compliance and security rules, our support team can help. Please drop us a line if you want a full diagnosis of your current installation.
Take me to the downloads, I want to try!
I need help with my Pydio migration!