Go with the Flows - Creating True Enterprise Document Sharing
With the addition of the new Flows workflow automation tool, Pydio Cells is now positioned to take on enterprise-level document sharing and collaboration and help your organization meet the challenges of today's decentralized workplace. That's the 50,000-foot summary. But let's start by taking a look at why you may need Flows and not even know it.
The Remote Work Challenge
Let's start by being honest. Managing huge quantities of documents is no one's idea of fun. If you add in strict processing, access management, and security requirements, it can quickly become an administrator's nightmare.
Typically, large organizations have used Enterprise Content Management (ECM) solutions to manage and store the tidal wave of documents through their lifecycle. But these solutions rely on closed central repositories that typically aren't strong on document sharing and collaboration, both of which are crucial in today's work-from-home world. Add to that the need to share and collaborate with external partners, and even, in some cases, clients and the walled garden of ECM simply no longer meets the real needs of organizations.
The Rise of Sharing and Collaboration Platforms
Given this capability gap, many organizations supplemented their ECM with file-sharing and collaboration solutions. It started with simple solutions meant to allow you to share files larger than an email platform would allow, and it has evolved into a whole ecosystem of highly capable sharing and collaboration platforms that provide a full workspace for teams. These solutions have changed the way we all work. But these solutions live outside of the ECM infrastructure. As their use has exploded, it has left admins with a new set of headaches. How do we keep control of all these files? How do we store them? How do we determine proper access control and avoid security leaks? How do we create workflows for time-consuming tasks that improve end-user productivity?
Pydio to the Rescue – Cells + Flows = Secure & Efficient Sharing
That's where Pydio Cells Flows comes to the rescue. Cells provides self-hosted, secure document sharing and collaboration. If not automated, the extra volume of repetitive, time-consuming manual tasks can overwhelm admins and often end up done late or not at all. For example, this can create security risks, such as former employees accessing documents or drive up storage costs by storing unused files indefinitely.
The equation is simple:

Manual document treatment = Costly/slow + high risk of human error + bad for morale 
But with the addition of our new Flows automation tool, you can tame the tsunami of documents while also enabling your teams, partners, and clients to share and collaborate quickly, easily, and securely:

Automated treatment = Accelerated processing reduces cost + eliminates human error + improves morale by reducing grunt work.
A Few Examples of How Flows Can Help
Automating Lifecycle Management of Shared Docs and Files
Usecase
Our client wanted to make sure team members used Cells for docs being actively shared with external collaborators and not as a permanent repository for shared files.
Implementation
Via Flows, we worked with the client to implement a multiple-step timer approach. First, verify old files don't have active public links. After a set time, tag the docs for deletion and alert the user, and finally, if there's no request to delay deletion, permanently remove them.
Result
Storage requirements immediately dropped. Files associated with revisions were removed as well. Public links pointing to old files were disabled, avoiding unwanted security leakage.

Integration with custom antivirus tool
Usecase
Our client wanted to pipe new files through a custom antivirus solution to prevent users from downloading them until they are stamped virus-free.
Implementation
A new Flow was created to send the content of every uploaded file to the antivirus, using the shell action to communicate with the antivirus program, and appending custom result metadata. The flow also included a custom security policy to prevent downloads until "valid" is present. When a file fails the scan result, it's moved into a "quarantine" folder, and an email alert is sent to the administrator and the user.
Result
As a result, every file is scanned at creation (or modification), ensuring infected files aren't propagated.

Automating the Document Review Cycle
Usecase
Our client wanted to set up an approval scenario for external partners uploading new files where Internal users have to review every new document before it gets moved to the production environment.
Implementation
A Flow was added to watch new file uploads, tag them using Cells' rich metadata types, and alert the appropriate set of users (based on roles) that there was a new document to approve. When reviewers start proofreading, the original author is also informed (via Cells activity feed or email).
Cells indexes document metadata, so reviewers can quickly find all documents flagged as "pending for review". To provide another layer of insurance, Flow uses timestamp metadata to send gentle reminders to reviewers when a document stays in "pending" mode too long.
Result
A smooth validation process where no doc can be forgotten. It's also easy to include users in the validation cycle by simply assigning roles.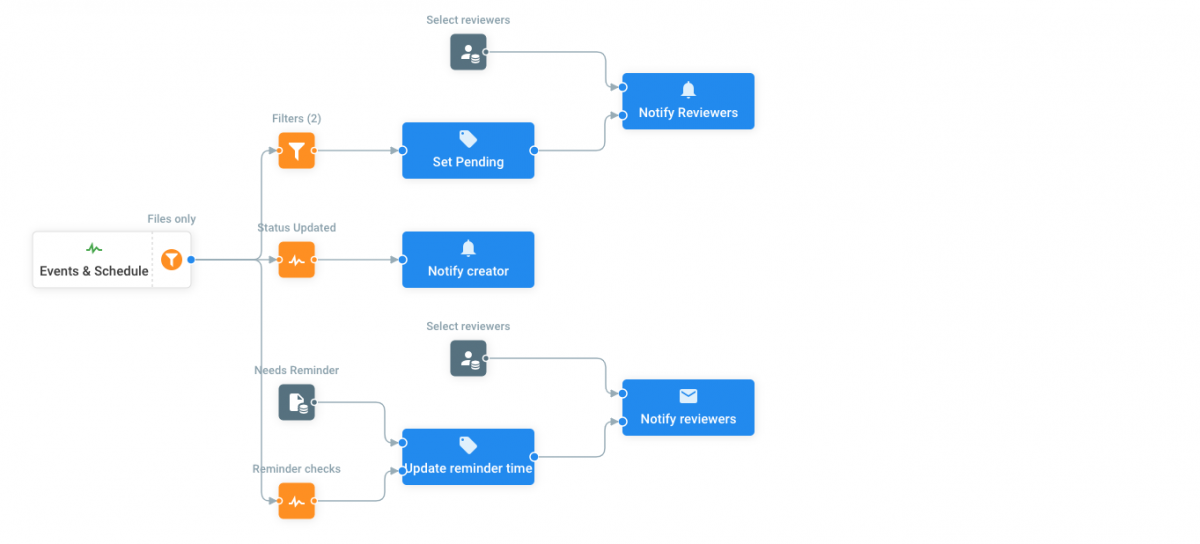 How Flows Works
Cells Flows provides an intuitive drag-and-drop interface that allows you to create and manage new workflows directly in Cells. Our library of standard Flows components will help give you a leg up in creating your own Flows, and, of course, our custom development team is always available to help.
Building a Flow
You can chain together customizable components (actions) from the library and trigger them by specific events or scheduled triggers.

A wide range of pre-defined conditional queries and filters provides a "no-code" approach to pull data and trigger workflows based on incoming data.

Use variables, templates, and scripts to create complex workflows with custom parameters, providing deep access to advanced Cells capabilities for the most advanced users.
Check out our step-by-step video guide for creating a simple job.
How Can Flows Help Your Organization?
Flows already provides a library of components (preset jobs) that can be chained together as building blocks to create your own automations:
Document management: move, delete, create, set metadata, write contents, create archives, etc.
Integrations with third-party tools: HTTP calls, shell commands execution, webhooks, external servers: http/ftp put/get
Communication with users: send notification emails, send in-app activities
Managing system access: create users, assign accesses to a given workspace, etc.
Combined with powerful, scriptable filtering options and "if/else" branch conditions, these actions can handle even complex scenarios. For example, do you need to automatically generate a CSV listing the folder's content, send this report to your own analytics tool and then email the report to the manager? Flows can take care of that! ​Your creativity is the limit.
For a complete list of current Flow templates and capabilities, click here. We are constantly adding new components and functionality, and if you need a Flow that isn't already in the library, our Flows development team is always ready to help.
Put Flows to Work for You
Flows workflow automations take Pydio Cells to the next level. Cells is now, more than ever, fully enterprise-ready. The platform now combines powerful team sharing and collaboration and exceptional security features with new automation features to make it as easy to manage as it is to use.
If you are a Pydio Cells user, talk to an expert to put Flows to work for you today. If you are new to Pydio cells, you can get a demo here.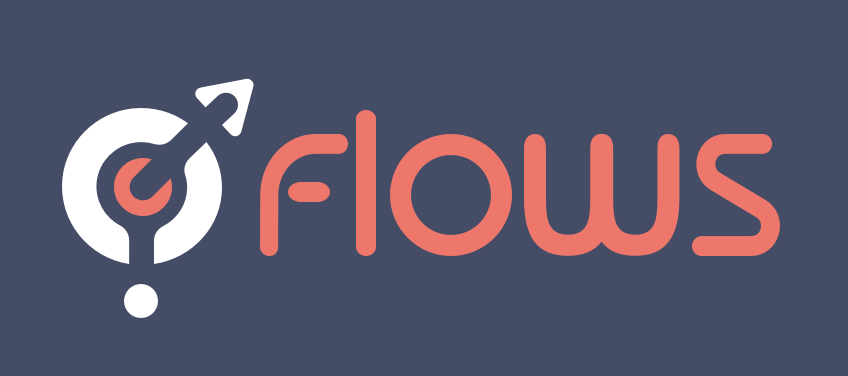 Need to Balance Ease-of-Use with Security? Pydio Cells Can Help.
If your organization is serious about secure document sharing and collaboration you need to check out Pydio Cells. Cells was developed specifically to help enterprises balance the need to collaborate effectively with the need to keep data secure.
With robust admin controls, advanced automation capabilities, and a seamless, intuitive end-user experience Pydio is the right choice for organizations looking to balance performance and security without compromising on either. Try Cells live for yourself. Or click on the button below to talk to a Pydio document sharing specialist.
Talk to an expert