Pydio Cells & Enterprise 4.2.0
Created on 2023/05/08
In this latest Cells update, our team is bringing you an all-new Material Design-driven look and feel, advanced sharing features, powerful new Flows automations, a new Android app and even our first NLP-powered feature.
Important: this release also fixes security vulnerabilities that were reported by independent researchers (more on that at the end).
Embracing Material You (a.k.a Material UI 3)
The Material You design system from Material.io is the latest evolution of Google's Material Design initiative that has been moving app and web design away from the chaotic Wild West it once was and creating a kind of standard language for visual design. To take advantage of these improvements, our dev team took the opportunity to re-imagine Cells' visual language. For version 4.2, we've:
Implemented a "Dark Mode" Theme

Reworked many of our UX components for improved readability and consistency

Created a highly personalizable interface, letting users create the workspace they want

Modernized our React JS codebase with new packing, updated dependencies, and removed any unnecessary legacy code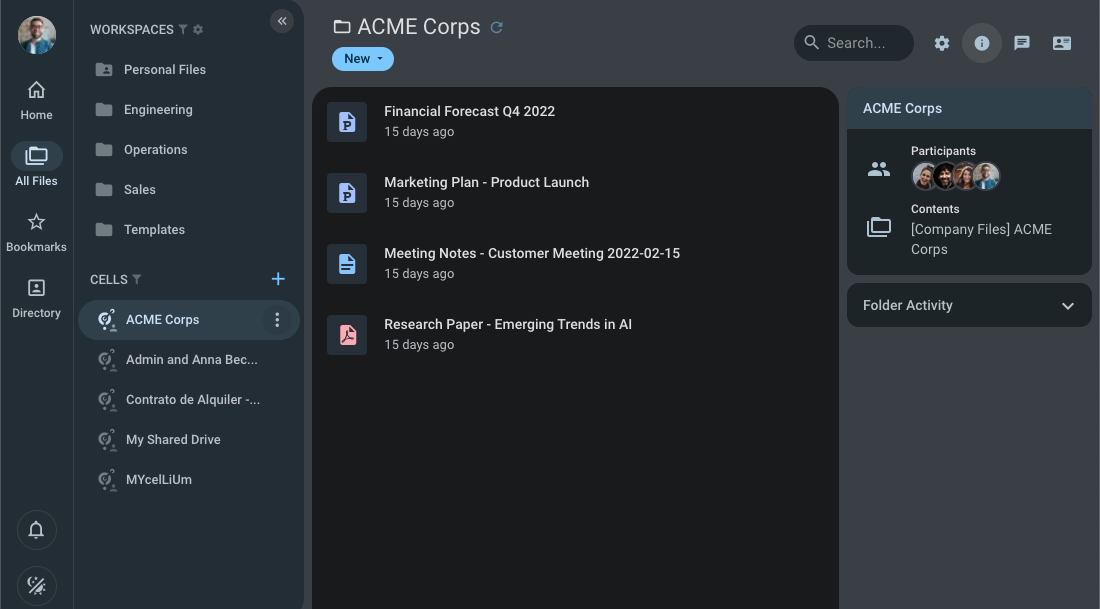 New Android App
To provide a unified look and feel, we've also updated our Android App to bring its design and useability in line with the desktop experience. Our developers rewrote the UI layer with Jetpack Compose and Material3 and included dynamic colours from Material You. The result is a better user experience and improved layouts for large screens. While we were in there, we also tweaked our file transfer protocols to use the AWS Android SDK, which allows huge uploads from the mobile app now.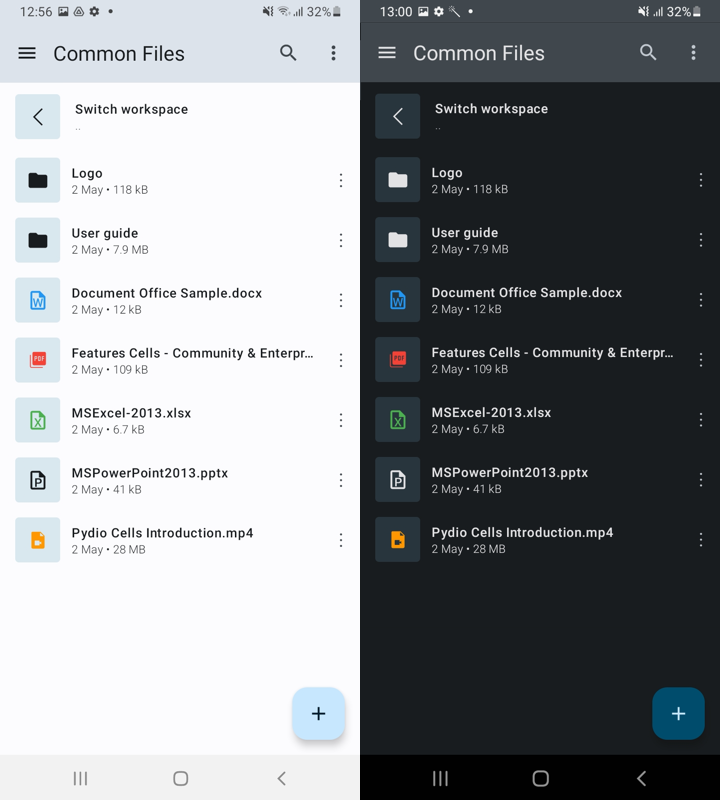 Advanced Sharing Features
In Cells 4.2, the team has implemented some impactful new functionality around our core sharing capabilities to make the platform more powerful than ever.
The first new feature is Cell expiry dates. You can now configure individual Cells to have an expiration date like public links already have, allowing users to set the lifecycle of a Cell.
Users can now find the "My Shares" screen in the Advanced Search panel, allowing you to use the share status (public link, part of a Cell) as an additional search filter.
We've also enriched the Cells Flows actions library - providing the ability to automate Cells and Links creation. This allows Flows builders to:
Create jobs that generate a public link for all files in a folder, collect these links in a CSV and publish it

Use Flows to generate custom user lists based on your own criteria and dynamically create a Cell for them

And generally allow you to create, delete and modify any existing Cells and links
Make More with Cells Flows
Along with the new share actions described above, we've implemented new pre-set actions to make Flows more flexible (trigger another Flow, trigger an error, clear a selection before, etc.) and give you the building blocks you need to create exactly the Flow you want.
First Steps for NLP
You may also have noticed that we've taken our first steps in the world of NLP applications with our smart assisted search function that suggests related search topics and helps users refine their search to find what they're looking for more quickly.

This new feature is already available for the English language in Cells 4.1.2 and 4.2. We're working on self-hosted NLP models and a long list of NLP-powered features to help you boost productivity and usability and ultimately elevate the document-sharing and collaboration experience.
And so Much More
With the UX revamp, we also took the opportunity to fine-tune, fix or implement features that you've been asking for and even straighten out a few things that were bugging us (e.g. remote sorting when pagination is enabled, persistent sorting options, address book improvements, and a long list of other mini-improvements) - all in the service of making Cells better and easier to use for admins and end users.
And lastly, the team took care of a punchlist of fixes and vulnerabilities reported by independent security researchers RedTeam Pentesting GmbH. Advisories will be disclosed soon – upgrade is urgently recommended.
Not ready to perform this important upgrade? We have you covered with Cells v4.1.3 which ships just the security fixes, and for Connect/Enterprise users, Cells Enterprise v3.0.12 provide a backport for v3.

If you've started using Cells 4.2, we want to hear from you. What do you like? What don't you like? What's still missing? Drop us a line to let us know.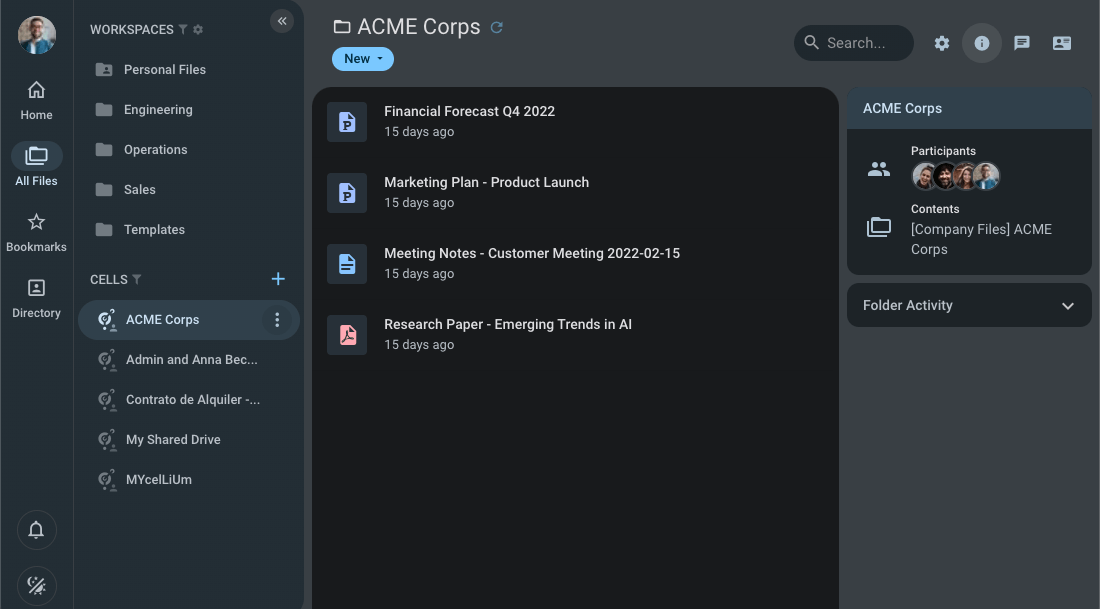 Need to Balance Ease-of-Use with Security? Pydio Cells Can Help.
If your organization is serious about secure document sharing and collaboration you need to check out Pydio Cells. Cells was developed specifically to help enterprises balance the need to collaborate effectively with the need to keep data secure.
With robust admin controls, advanced automation capabilities, and a seamless, intuitive end-user experience Pydio is the right choice for organizations looking to balance performance and security without compromising on either. Try Cells live for yourself. Or click on the button below to talk to a Pydio document sharing specialist.