Automating your Document Sharing with Pydio Cells Flows
Sure, document sharing is an absolute, non-negotiable necessity for today's organizations. And there are a multitude of great solutions out there to make document sharing easy and seamless for end-users. But what about the admins, the poor, poor admins? If your solution doesn't have powerful automation capabilities, your admins will spend endless hours managing user privileges, pruning content, monitoring storage usage, and trying to apply and enforce your organization's data governance policies.
That's why Pydio launched the Cells Flows automation tool. Flows provides an intuitive drag-and-drop interface that allows admins to create and manage new workflows directly in Cells. But just as importantly, our ever-expanding library of standard Flows components can be set up and implemented in minutes or help give you a leg up in creating your own customized Flows. Cells Flows sets Pydio Cells apart from its competitors as a truly enterprise-ready solution that admins love.
Three Examples of How Flows Can Help
Flows was conceived to help take the heavy lifting out of document sharing for admins. Our development team has been keen to program off-the-shelf Flows to address some of the most common and time-consuming tasks admins face day-to-day. Here are three examples:
Onboarding
Each time a new employee joins the team, or you need to bring a new partner, collaborator, or client onto the platform, it means work. And that work needs to be done very quickly. With Flows, those admin tasks can be entirely automated by configuring our First Connection Flow as a starting point for any onboarding task you need to trigger: send a welcome explanatory email, create preset folders in the user's personal workspace, inform hierarchy of this new first connection, etc… It's entirely up to you!

Get all the details about the First Connection Flow here.
Document Lifecycle Management
One of the most important facets of document lifecycle management (read up on it here) is end-of-life, also called pruning, deleting, and purging (wow that's a lot of names). And what it means is that you define a set of criteria that dictate when it's time to delete a document. It's all well and good to define that policy, but if admins are charged with actually enforcing this policy, it can become overwhelming. That's why one of the first standard Flows designed by our team was the Purge flow, which lets you set your policy and automate execution. It can even be configured to warn users when a document is scheduled for deletion.

Find out more about the Purge Older Documents Flow here.
Workspace Roles
Another time-suck for admins is trying to keep on top of access to newly created workspaces. Many systems alleviate the workload for admins by relying on the creator of the workspace to determine user roles, but this approach means you have no control over access levels and your security policies, if you have them, are not being verifiably implemented. In Flows, there is a sample workflow to let you set roles and ACLs in order to automate the assignment of privileges to new workspaces. The most important action here uses Anko Script, a pseudo-code scripting language, allowing you to easily define your own custom rules.

Find out more about setting workspace roles here.
Is Flows Complex to Use?
The short answer is no. The drag-and-drop interface makes putting Flows together relatively simple. But the longer answer is that Flows is a highly-capable environment that lets users create very sophisticated automation. Take a look at this short video to get an idea of how the process of building a Flow works.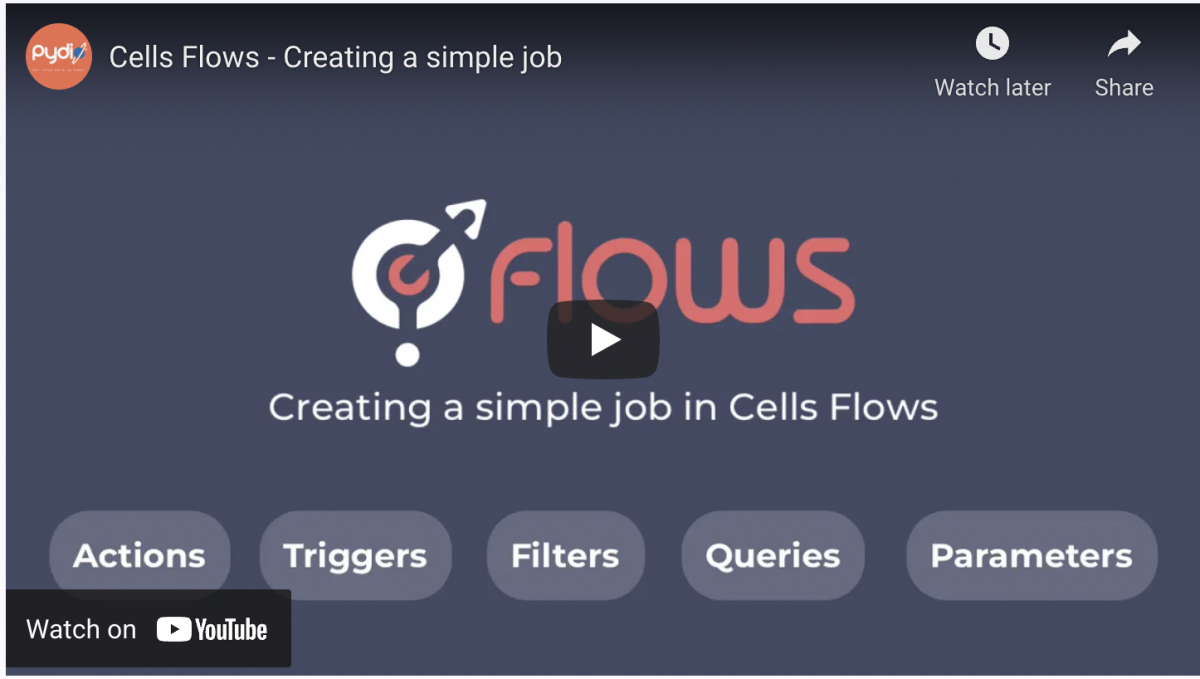 Finding Solutions to Your Everyday Challenges – The Flows Library
The Flows Library already contains nearly 30 preset automations as well as templates and tools for custom development. You can find automation running from personal back-ups to content extraction routines to antivirus scans. Check out the library here.
Put Flows to Work for You
Flows' workflow automations take Pydio Cells to the next level. Cells is now more fully enterprise-ready than ever, combining powerful team sharing and collaboration and exceptional security features with new automation features to make it as easy to manage as it is to use.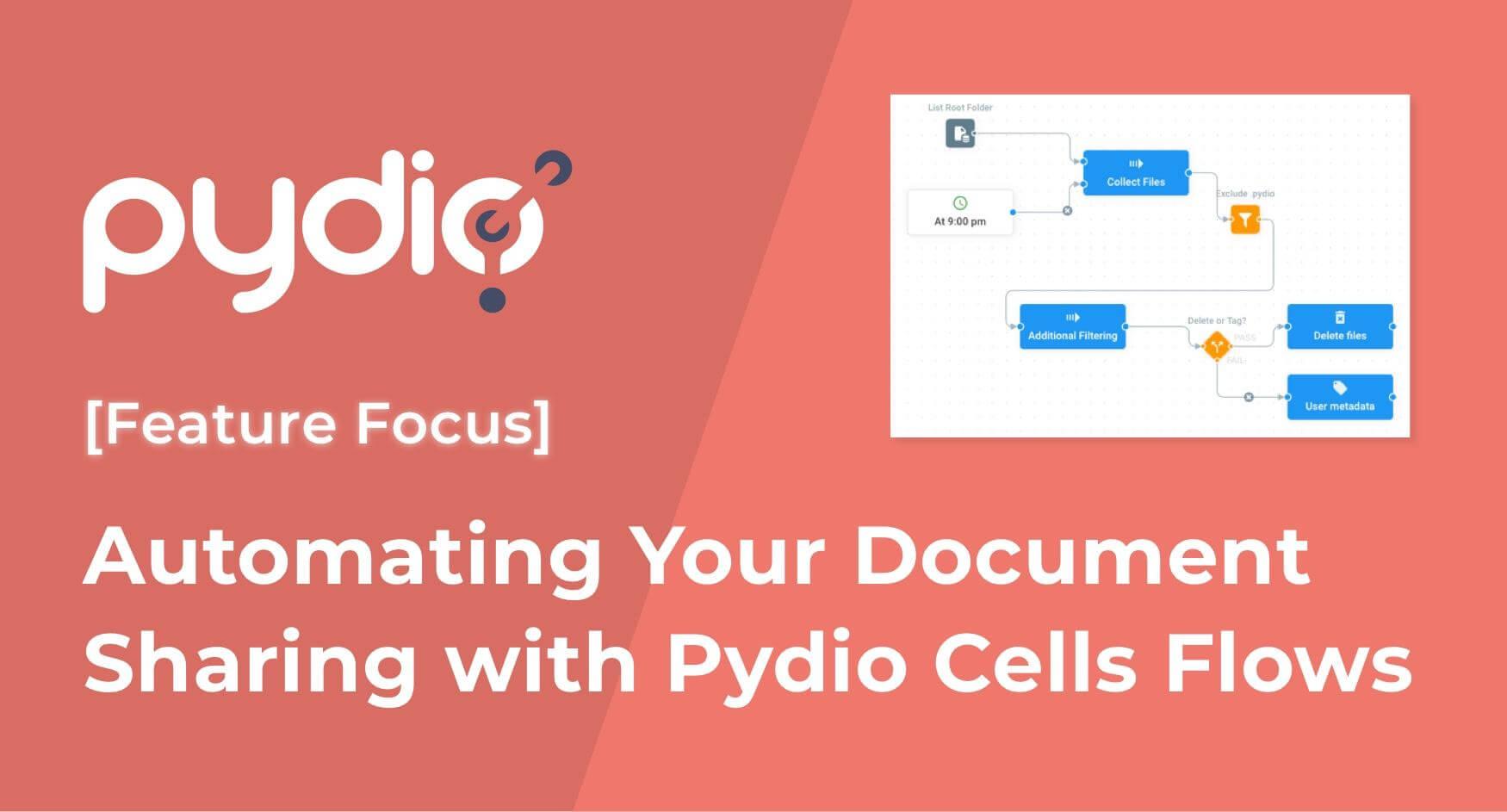 Need to Balance Ease-of-Use with Security? Pydio Cells Can Help.
If your organization is serious about secure document sharing and collaboration you need to check out Pydio Cells. Cells was developed specifically to help enterprises balance the need to collaborate effectively with the need to keep data secure.
With robust admin controls, advanced automation capabilities, and a seamless, intuitive end-user experience Pydio is the right choice for organizations looking to balance performance and security without compromising on either. Try Cells live for yourself. Or click on the button below to talk to a Pydio document sharing specialist.
Talk to an expert