Should You Migrate to Pydio Cells
Many of you reading this post will be happy Pydio 8 users who use the platform daily for file sharing and collaboration. And the question you must be asking yourself is, "why should I go to the trouble of upgrading to the new Cells version of the platform?" The answer is that Cells is more of all the things you already love about Pydio: more speed, bigger files, more scalability, more security, and customizable workflows to reduce the management load.
Why did the Pydio Team Develop Cells?
The short answer was because our clients needed it.
For IT Departments
The Pydio team has been serving enterprises around the world for more than ten years. And in that time, file sharing needs have evolved. For clients who need to regain control and focus on the security of their documents, popular SaaS Solutions are simply not an option. These organizations need self-hosted solutions. But implementing and maintaining a self-hosted solution is never as easy for IT departments as vendors lead you to believe. Cells helps IT departments with hassle-free migration, easy updates, and streamlined management via Flows automations.
For Teams
Another driver for the development of Cells was the increasing reliance on file sharing and collaboration. This reliance has driven the need to develop more and more end-user features to equip teams to collaborate efficiently. Cells upgrades the user experience and capabilities of Pydio to meet the needs of today's work-from-anywhere teams.
For Organizations
For organizations, the need for file sharing has moved far beyond early "dropbox" type solutions to full enterprise-level collaboration platforms. Sharing and collaboration has created new security and compliance risks that many platforms can't address fully. Cells provides a full suite of user management tools, analytics, and security features to help organizations meet the new complex security and compliance demands created by sharing and collaboration inside and outside the organization.
Futureproofing Pydio
The final driving reason to create Cells is that Pydio 8's PHP infrastructure was showing its age. Pydio 8's original LAMP stack (Linux+Apache+MySQL+Php) provided a solid path for wide adoption, but the PHP base was definitely hitting its performance limits. The technology simply wasn't robust enough to serve huge numbers of files in a futureproof environment, and maintenance, upgrades, and new features deployments were becoming more and more of a challenge. The Pydio Team chose GO, a modern, service-oriented language backed by Google DevOps, to rewrite Pydio from the ground up. And Cells was born – a fully enterprise-ready, lightning-fast, stable, and expandable sharing and collaboration platform ready for the next decades.
What You Get With Cells
Zero-hassle transition with our migration tool. Front-end screens and features are very similar for end users. Public links, previews, workspaces, and ACL managements are unaffected, and with the migration tool you can import all existing data from Pydio 8

New architecture was conceived with big files in mind. Each file can be up to 5TB in size. Datasources can be mounted from any storage device (local/NAS, objects storage like Amazon S3 or S3-compatible, etc.), and all the company silos can be reached through a single point of access

In-depth security layers provide increased flexibility and simplify the job of security managers ensuring data access is correctly mapped to compliance rules (e.g. rules-based request filtering, auditing tools for real-time reporting)

Cells Flows brings programmable workflows to the platform, giving admins a way to easily implement advanced business process automations, reducing human error and increasing team productivity

Cells is a compiled binary that works straight out of the box. The only dependency is a MySQL/MariaDB database. Cells even embeds its own web server. Upgrading is just about replacing the binary and restarting the service
Downsides of Staying with V8.0 or Lower
The free Pydio 8 Community Edition is reaching end-of-life and will cease to be supported with upgrades and patches
Pydio 8 Enterprise is entering the "feature-freeze" stage. Security issues may still be patched for enterprise clients, but feature-oriented issues won't be addressed, and no new features will be added
LAMP components absolutely require regular security updates to address issues native to this stack
Pydio 8 Enterprise upgrades are no longer provided in-app and must be applied manually.
Special Launch Transition Offer
Migrating to Cells is the right move for almost any organization. And to help you make the transition, we are offering a special limited-time Transition Support Package. We'll work with your IT team to ensure a fast, smooth, issue-free transition and have you up and running on Cells in hours. Email us at freetransition@pydio.com for details
The Time has Come
Pydio 8 is a valued and reliable platform for many organizations. It's led a full and productive life. But the time has come to say goodbye and move to Pydio Cells, the next generation of enterprise-ready file sharing and collaboration platforms. Join us on Cells!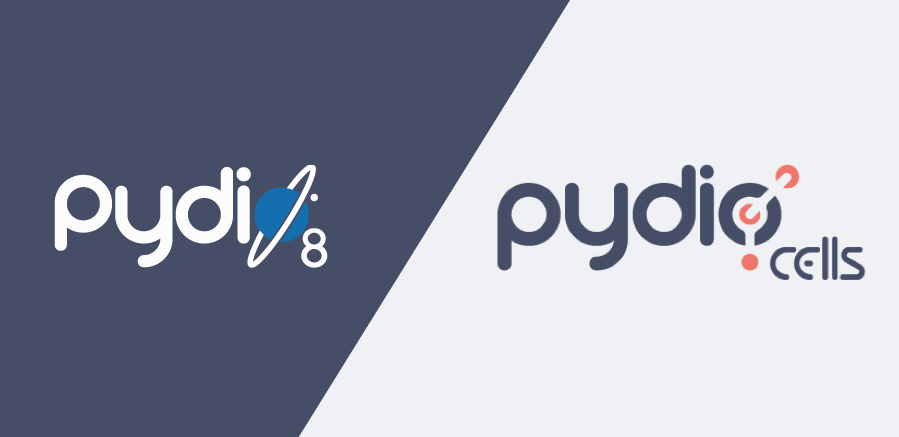 Need to Balance Ease-of-Use with Security? Pydio Cells Can Help.
If your organization is serious about secure document sharing and collaboration you need to check out Pydio Cells. Cells was developed specifically to help enterprises balance the need to collaborate effectively with the need to keep data secure.
With robust admin controls, advanced automation capabilities, and a seamless, intuitive end-user experience Pydio is the right choice for organizations looking to balance performance and security without compromising on either. Try Cells live for yourself. Or click on the button below to talk to a Pydio document sharing specialist.
Talk to an expert