Setup a WEBFTP
Created on 2023/01/24,
WARNING
This article is for Pydio 8 (PHP). Time to move to Pydio Cells!
SETUP A WEBFTP REMOTE AUTHENTICATION
With Pydio you can have FTP Workspaces implying that you will have to authenticate one way or another to access the content and so we offer you a plugin that allows you to have users log in this workspace as if they were logging in to a FTP server such as FileZilla.
Requirements
Pydio installed and fully functionnal.
FTP Workspace, you can go here to learn how to set an FTP Workspace.
FTP Authentication Plugin.
FTP Authentication Plugin
First you need you enable this plugin go to Application Parameters > Available Plugins > Authentication Backends > FTP Authentication.
Then you can start to set it up, i will explain what every field stands for and it's usage.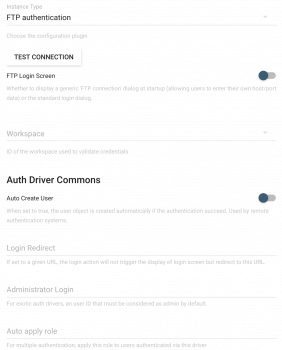 FTP Login Screen : if you want your users to have dialog allowing them to enter host/port data, but in most cases you should disable it.
Workspace : The Workspace that you are using to check if the credentials are right.
Auto Create User : you can enable this, it will automatically create a user when someone logs, in Pydio's database.
Login Redirect : if you want a specific action to happen when someone is logging in you can give a Specific URL.
Admin Login : Give a user that is considered as an Admin by default.
Auto apply role : If you want a role to be applied to every user that is authenticating through this driver.