Enterprise License
WARNING
This documentation is for Pydio 8 (PHP). Time to move to Pydio Cells!
You will find the required information on your pydio.com user page MY ACCOUNT

On your Pydio server you can check the status and modify the credentials. This is useful to renew your license and check for updates.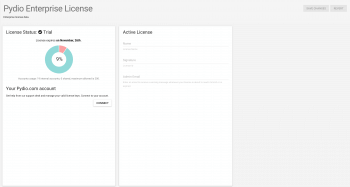 In this section you can see and manage your license informations. Your Enterprise Distribution license is available in your Pydio.com account. Make sure to avoid adding white-space at the beginning or end of the license name / license key if you are copy/pasting the value from another page.
Providing an administrator email will allow Pydio to send you a warning email if the number of users is soon reached or if the license is about to expire.
Back to top