Architecture overview
Below is an overview of the Pydio Cells architecture (click on it to see the detail):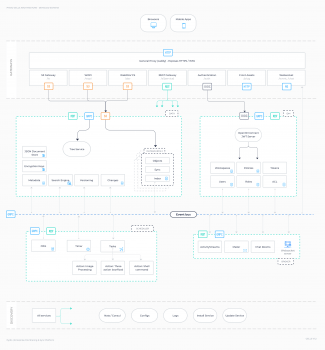 As explained in the previous section, public access APIs are following the "API Gateway" pattern: gRPC services may provide an additional gateway service that translates HTTP REST into gRPC. A dedicated service is acting as a proxy to dispatch incoming queries to these gateways.
The data is exposed via a set of standard protocols:
Authentication is following the OpenID Connect Protocol, an identity layer on top of OAuth2, using JSON Web Tokens (JWT)
Files can be managed using the Amazon S3 protocol.
Activities are published in the Activity Streams 2.0 format (by W3C).
Logs are redirected to the stdout in JSON format, to be aggregated in ELK or similar.
It is stored in various ways:
Application metadata, specific business data (users & roles, chat, tasks…) are persisted in a database. For the moment, production servers can run with MySQL (or mariaDB equivalent). Tests are done using SQLite.
Logs and semi persistent data (like various queues) are persisted in an embedded KVStore (BoltDB).
The Files themselves are stored in the underlying datasources (see relevant resources).
A small amount of tactical info is directly stored in a few files, typically:

Main configuration is stored in a pydio.json file,
License for the enterprise edition is stored in a pydio-license file.
Back to top